Webex conferencing
The James Hutton Institute makes use of Webex for many of its meetings with collaborators.
If you have been invited to attend a Webex meeting, this page provides a quick guide in what you need to know if you're joining the Webex from a computer. You can also join other ways, as mentioned on our Conferencing page. If you've attended a Webex meeting before anywhere, much of this information may be familiar.
What is Webex?
Webex is a cloud-based conferencing tool which lets you collaborate with one or more Hutton staff. During a meeting you can hear and speak with those in your meeting by using your computer or mobile device's microphone, or headset, or alternatively using a telephone.
You can choose to let others see you by sending video from your webcam, and you can see those that have chosen to do the same. You can also see the presenter's desktop or documents if they wish to share them with you, and you can share yours too.
What you need to join a Webex meeting from your computer
When you first join a Webex meeting on a computer, you have the option to join by installing the Webex Meetings app if you are allowed, or by using your internet browser which means you don't have to install anything. By default if you don't choose one or the other, Webex will usually try to use your internet browser. If you use Mozilla Firefox, Google Chrome or Safari (on a Mac) as your internet browser, you'll be able to send and receive video. You can also use your computer for audio if use Firefox or Chrome.
If you have a headset or microphone for your computer, you can join the audio conference using your computer, or you can use your phone.
To send video, any webcam attached to your computer can be used.
You can alternatively join a Webex meeting from most mobile devices such as the iPhone, iPad or Android devices by first installing the Webex app, which you can find and install by following this link from your mobile device.
If you don't have access to a computer or mobile device at the time of the meeting, you can phone in using the details in your invitation email.
---
How to join a Webex meeting
To join a Webex meeting, follow the Join Webex meeting link in the invitation email appointment you received. You can join a meeting from 5 minutes before the scheduled start time. On a computer, this will take you to the Hutton Webex site, where you'll be asked to enter your name and email address if it's time to join. On a mobile device with the Webex app installed, it will automatically take you to the app and you will join the meeting.
The join page gives all the details you need to join your meeting, including how to call in if you need to. You can click on the Global Call-in numbers link if you are going to call in from outside of the UK to find a number more appropriate for phoning from that country.
Once you enter these details and click the green Join Meeting, Webex will automatically start in your internet browser or the Webex software will automatically launch (or steps will be displayed to install it), and you'll then join the meeting.
When your meeting starts, the first thing you should do is connect your audio. Until you do that, you will not be able to hear other participants in your meeting, and they will not be able to hear you.
If joining from a computer, the first thing you will see is the Audio and Video Connection menu.
If you're joining from your internet browser, you'll need to click on the button on the left (shown below).
Until you set choose your audio settings, and click Connect Audio or Connect Audio and Video, you will not be able to hear other participants in your meeting, and they will not be able to hear you.
Similar options are also available when joining from a mobile device.
If you close that menu without selecting anything, you can reopen it by clicking on the Connect to Audio button, or by clicking on the three dots at the bottom of the button to reopen the More menu.
If you close that menu without selecting anything, you can reopen it by clicking on the Connect audio and video button.
On the left you can select how you want to connect to the audio, and on the right you can select your webcam if you want others to see you. When you select a webcam, a preview of what others will see when you join is shown, so you can check if you have selected the right camera.
The audio options you can select from are described below, and the next time you join a Webex meeting, Webex will remember the option you chose last.
If you need to return to these audio settings after connected, just click on the menu button and select Audio Connection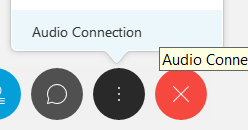 Call Using Computer
If you have a headset, or built-in microphone and speakers, you can call using your computer.
Double check that the correct speaker and microphone is selected here (this will normally default to using your headset if you have one), and click on More options if you want to check the audio is working before connecting.
Click on Call Using Computer. You can test out using your computer for audio first by clicking on the Test computer audio option. This also allows you to select an alternative microphone or speakers, if you have more than one connected to your computer, and you'll also be warned if there is an issue that may affect your ability to call using your computer.
Check you've selected the right webcam too under Select Video Connection, and then click the green Connect button.
I Will Call In
If you do not have a computer available, or the internet connection is causing problems, you can use your phone instead by selecting I Will Call In from the Select Audio Connection menu.
By default this will show the UK number to dial (replace the +44 with a 0 if dialling in the UK), but if you are in another country you can click the All global call-in numbers link to see a full list of numbers for other countries around the world, to save on call costs. You will also be provided with an Attendee ID which you should provide when prompted.
---
Taking part in a Webex meeting
Once you've joined the Webex meeting, the following guide will help you take part in the meeting.
The Participants Panel

You can see a list of all Participants in your meeting that have joined so far on the right hand side, by clicking on the Participants button along the bottom of the screen.
An icon to the left of each participant's name shows you what type of device that participant has joined audio from:
Using their computer for audio, such as from a headset
Using their phone to join audio
Using the Webex app on their mobile device to join audio
Using a video device to join
Participants can hear you and speak to you once you see one of these icons beside their name. You will notice other icons shown to the right of their name too:
They are speaking
Their microphone is muted
They are sending video
The host can mute each participant's audio by pressing the mute button to the right of their name, or can select Mute All, Unmute All, or Mute on Entry from the Participant menu. Individual participants can mute their own audio via the mute button too.
Any participant joining the Webex meeting by calling in by phone who hasn't entered an Attendee ID will be listed on a separate line as a Call-in User.
Video
Webex will show all video being shared in the main window during a meeting. You can alter how you view the video of all participants by using the buttons in the top right of the video view.
Active speaker and thumbnail video view - see the person currently speaking in the main window, with smaller "thumbnail" video images along the bottom of everyone else
Active speaker video view - only see the

see the person currently speaking in the main window

Grid view - see up to 25 participants at once in a grid view. As participants join the layout will change to fit them in onscreen. If you have more than 25 participants you can click on the arrow buttons to see others.
You can also move the video to its own separate window, useful if you have two monitors, by clicking on the
Floating panel view
button.
---
Sharing content and collaborating

Webex allows you to share your desktop, or a particular application with all other participants in a meeting. This allows everyone to for example work on a document, spreadsheet or presentation together, with the presenter having the ability to allow others to take control if need be.
Anybody can share

documents, applications or their desktop

during a Webex, and when they do so they become the presenter.
In the Participants panel, the presenter is shown with the Webex ball to the left of their name.
The host can make any other participant a presenter by 'passing the ball' at any time. If somebody else was sharing content at the time, this will stop being shared. To do this, click and drag the icon down to the participant who is to become the presenter.
The presenter can start sharing their desktop at any time by clicking on the Share content button along the bottom of the screen and selecting what they want to share.
You can:
Share your whole screen - A preview is shown of what is currently on your screen, and if you have more than one screen you can choose which you want to share.
Share an application - A preview is shown of every open application. Any application you have open can be shared with the participants rather than sharing your whole screen. You can also select Other Applications at the bottom to open a new application you want to share.
Share File - This is not recommended, as only those joining your Webex from a computer will see this content.
Sharing your desktop or an application
When the presenter shares their desktop or an application, all participants will immediately see the shared content. A participant can choose to view your shared content full screen, or zoom in using the View buttons in the top right of the window showing the content.
On the presenter's PC when sharing their screen, a green line will be shown around the screen they are sharing, and an orange box at the top of the screen shows
If the presenter is sharing an application, the application will show in the top right of the window.
When you move the mouse cursor over the orange box, a toolbar will appear. This looks like the following on the presenter's PC.

All participants will see the presenter's desktop or application until the presenter clicks on the Stop Sharing button.
A presenter can allow another participant to take control of their desktop or application by going to Assign > Pass Keyboard and Mouse Control and clicking on their name. That participant will be asked if they wish to accept control. The presenter can click their mouse button to take control back at any time.
The presenter can also annotate on top of the shared desktop or application by clicking on the Annotate button. A toolbar is then displayed on the left with various drawing tools.
Participants can zoom in and out, or request control from the presenter, or to be allowed to annotate via a small toolbar to the left of the shared content:

---
Using Chat

You can click on the Chat button if you want to send text messages to all participants, or just individuals. You might use this to pass a message to another participant during a meeting, or to let others know that you're having problems, but note that only those joining Webex from a computer or the Webex app on a mobile device will be able to see those messages.
---
Leaving a meeting

You can leave a Webex meeting at any time, by clicking on the red Leave Meeting button at the bottom of the screen, or by going to File > Leave Meeting.
When you do this Webex will close, and if you were using your phone for audio, the call will end too. Your name will no longer be displayed in the Participants list, and a short beep will sound so that others know somebody has left.
As long as a meeting is still taking place, you can rejoin the meeting.