Hostel Accommodation
The hostel is situated within the Cunningham Building, adjacent to the Aberdeen offices of the Institute. It is intended to provide short term, low cost accommodation for visiting scientists and visiting students only. The maximum length of stay is three months.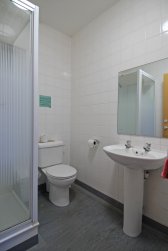 Enquiries about bookings and charges should be directed to hostel@hutton.ac.uk or by telephone to 01224 395087.
The current charges are:
1-6 nights: £20 per night
Weekly charge: £100 per 7 night period plus £14 per extra night
A cancellation charge of £25 for the first week and £10 for the second, third and fourth weeks of a booking not taken up shall be applied.
The accommodation consists of four en-suite bedrooms.
Towels and bedding are provided.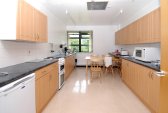 It is on a self-catering basis and the residents have the use of a shared kitchen and laundry.
Wireless internet access is provided.