Planning Consultation with Invergowrie Community
Planning applications for developments at the James Hutton Institute - your chance to review and comment
The James Hutton Institute has recently submitted two applications for the Integrated Farm Facility (IFF) development which forms part of the Tay Cities Deal development of new facilities and infrastructure on our site.
One application is for the polytunnels that are to be relocated from the north part of the site to an area further south and west on the site. This application has already received planning approval and the information here is provided for information only. The reference number for this application is 21/00651/FLL Erection of polytunnels.
The other is for some of the main buildings and is currently under consideration. Its reference details are 21/00780/FLL Erection of 2 agricultural research buildings, stores, wash/filling bays, formation of access road, footpaths, parking area, hardstanding and associated works .
We encourage our neighbours in Invergowrie to have a look at the proposals. We're sharing them on an informal basis in the interests of openness and neighbourly relations to let local people know what our plans are and what the mechanism is for any comments they may have. Perth & Kinross Council provide specific feedback routes for this type of public comment on planning applications that you can access here.
We have prepared the below masterplan image to explain how the current applications relate to the overall Tay Cities Deal development at the Institute. It gives indicative timings for the main parts of the works. The current planning application work is shown as part of that masterplan image. Please click on it for a full-resolution image.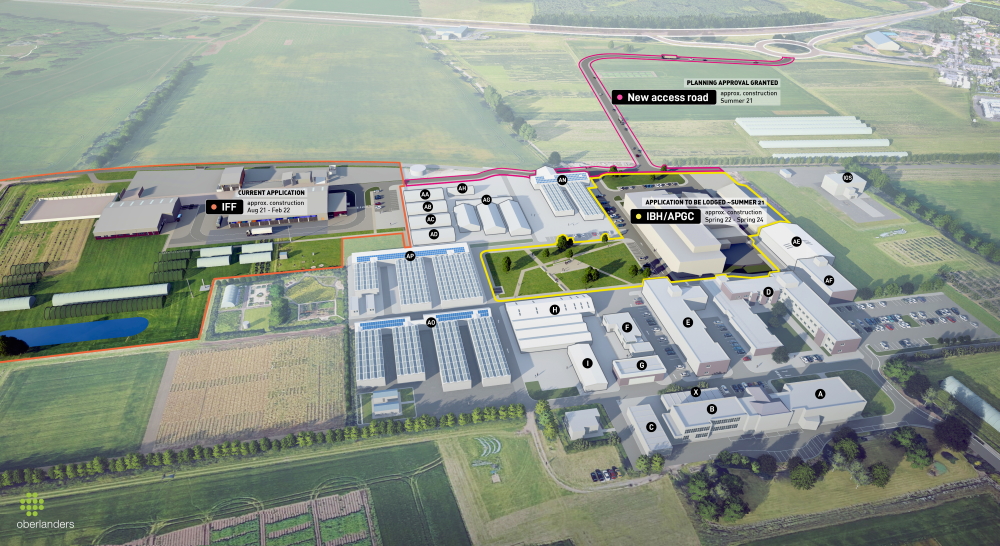 You can also view the architect's drawings for the proposed buildings by clicking the thumbnail images below:
Masterplan image

This shows the 3 key applications and the indicative dates for further applications and associated construction: a) New access road – planning already obtained and construction due to start this summer; b) IFF – subject of this application and construction due to start this summer; and c) New main IBH/APGC research building – consultation to take place later this summer.
Proposed Site Plan for the Integrated Farm Facility (IFF)
3D site layout for all buildings forming IFF
3D elevation for the 2 key buildings comprising IFF
The IFF comprises two key buildings:
space for our farming team within building L and associated support buildings
the Barley field Station which will facilitate near-field crop research for which the new IBH / APGC building is not suitable.
This consultation is being held in parallel with the planning application which was recently validated by Perth & Kinross Council. Please make any comment you may have on the planning application direct to Perth & Kinross Council via this link.