Hutton invites public interest in £7.2 m hub plans
The James Hutton Institute in Aberdeen is opening its doors to local residents, schools, businesses and community groups to share proposed plans for its new £7.2 million Just Transition Hub.
Funded by the Scottish Government's Just Transition Fund, the hub will be a centre for engagement, innovation and capacity building around nature-based solutions for net zero and the green recovery.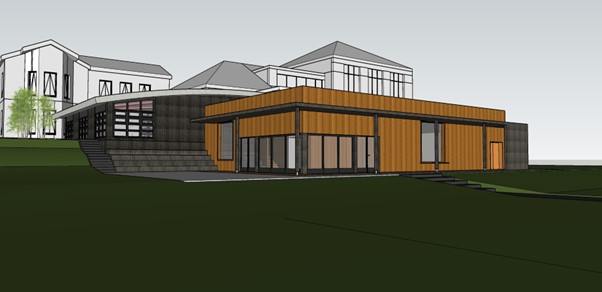 Initial architect drawings of the hub extension
Interested groups and individuals are being invited to discuss the proposed plans and help influence their development at open sessions being held at the Hutton's Craigiebuckler campus, off Macaulay Drive, on Wednesday and Thursday, September 20 and 21, from 1.30 – 7.30pm.
The sessions are drop-in, with presentations scheduled for 2pm, 4pm and 6pm each day.
The proposed plans currently involve a public café, training facilities, auditorium, 360-degree immersive space and virtual landscape theatre, largely through remodelling the existing building, with a small extension.
It's hoped to bring together communities, scientists, agencies, spin-in and spin-out companies and private finance in the north east, in person and virtually, using cutting edge collaborative tools.
Alternative view of East Wing Extension
About the James Hutton Institute
The James Hutton Institute is at the forefront of meeting the global challenges of providing food, energy and water from finite land and natural resources.
Our strengths in land, crop, waters, environmental and socio-economic sciences enable a broad range of science disciplines to interconnect, delivering knowledge, products and services that improve the quality of life.
In partnership with people, organisations and governments, our work enhances sustainable environmental, social and economic development, delivering practical solutions for our shared future and influencing the agenda for land use and development for the 21st Century.
More information from: Elaine Maslin, Media Officer, The James Hutton Institute
elaine.maslin@hutton.ac.uk, tel: +44 (0)1224 395076 or +44 (0)7977 805808
Disclaimer: The views expressed in this blog post are the views of the author(s), and not an official position of the institute or funder.