World Soil Day
Important information for event attendees and external visitors

Some of our events may be delivered differently to previous years, or be adapted to reflect prevailing official guidelines or restrictions. In some circumstances they may move to online delivery. Please check back on this website ahead of the event you're interested in to see its latest status and information about its delivery.
As the situation continues to evolve, please check the UK Government and NHS websites for the latest advice and updates. If you have any questions or concerns, please email events@hutton.ac.uk.
In 2002 the International Union of Soil Sciences (IUSS) made a resolution to propose 5 December as World Soil Day. This annual celebration of soil continues to be used as an opportunity to draw attention to the importance of soil for humans and the environment and to our need to manage the soil sustainably.
Environmental organisations and research institutes around the world, including The James Hutton Institute are spearheading the need to draw more attention to this precious natural resource, upon which all life depends: complex, ubiquitous and often-ignored, wonderful soil!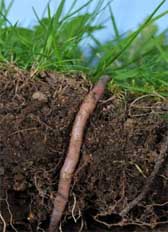 Essentially, all life depends upon the soil ... There can be no life without soil and no soil without life; they have evolved together. (Charles Kellogg, 1938)