'Eco pets' wormeries go down a treat at RGC
A visit to Robert Gordon's College junior school eco group was made by three James Hutton Institute members of staff on 20 June, 2011. Lorna Dawson gave an overview of our different soils in Scotland and how they provide healthy food, as long as they have a healthy population of organisms.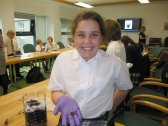 Kenny Hood demonstrated how to make a composting wormery and the children took the opportunity to examine the worms in their large glass fronted homes using microscopes.
Kenny and Claire helped all the children make their wormery from recyclable plastic bottles, grit, compost, shredded paper and most important of all, the tiger worms! (Or red wrigglers as they are also called, as they are red and wriggle when touched).
Did you know?
Lumbricus terrestris (lobworm)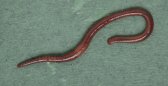 Eisenia fetida (tiger worm)
Earthworms (as above) are great for soil. The photo above is Britain's biggest earthworm which can reach 35cm when fully stretched!
They speed up decomposition by consuming lots of dead plant material, and their burrows help aerate the soil and let water through easily. Worm casts (faeces) are rich in recycled plant nutrients that help to maintain the soil fertility. Recent research suggests that even poor soil may support 250,000/acre (62/m²), whilst rich fertile farmland may have up to 1,750,000/acre (432/m²). This means that the weight of earthworms beneath the farmer's soil could be greater than that of his livestock upon its surface!
The worms that you need to use in your eco composter are the 'tiger worms' and they are usually found in garden compost but they can also be found in wet, decaying leaf litter, organic-rich soils and manure heaps. It eats rotting vegetation and recycles your added organic material making it an excellent 'eco pet'.
This worm grows to around 6cm long. It is stripy on its upper surface, giving it the name of 'tiger worm'. It wriggles like mad when touched, hence its other name, the 'red wriggler'. It can exude an unpleasant-smelling yellowish fluid when handled, so take care and wash your hands after handling them.
Claire Ghee, PhD student at The James Hutton Institute said of this event: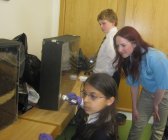 "The worm farms were a slimy source of fascination for the kids. They enjoyed putting together their own worm farms with compost, paper and gravel in plastic drinking bottles. The best bit was watching the handful of added worms burrow into their new homes. The kids seemed excited about getting to take home their own worm farms, I just hope the parents were just as enthusiastic to see a bottle of worms come through the front door."
Please email info@hutton.ac.uk for further information.