Peat Surveys: Peat Deposits
Maps of the distribution of surveys of peat deposits by the Scottish Peat Committee and Macaulay Institute Peat Surveys (since 1984)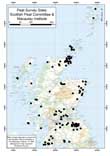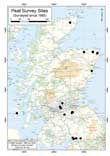 | Identifier | Name | Survey Year | Total Area (ha; >0.5m depth) | Total Volume (m3) | Max. Depth (m) | Mean Depth (m) |
| --- | --- | --- | --- | --- | --- | --- |
| 1 | Flanders Moss (East) | 1956 | 915 | 39,400,000 | 7.0 | N/A |
| 2 | Altnabreac Moss | 1950 | 7,024 | 156,143,504 | 6.01 | 2.2 |
| 3 | Badanloch Moss | 1951 | 807 | 16,460,000 | 5.5 | 2.0 |
| 4 | Loch Nan Clar Moss | 1951 | 1,052 | 23,000,000 | 5.0 | 2.2 |
| 5 | Airds Moss | 1952 | 1,066 | 28,400,000 | 7.0 | 2.7 |
| 6 | Barvas Road | 1953 and 1979 | 3,635 | 84,062,000 | 5.0 | N/A |
| 7 | Flanders West | 1953 | 521 | 22,200,000 | 8.0 | N/A |
| 8 | Strathy-Halladale Mosses | 1953 and 1954 | 4,604 | 103,496,794 | 6.0 | 2.3 |
| 9 | Gardrum Moss | 1955 | 159 | 6,505,868 | 8.5 | 4.1 |
| 10 | Darnrig Moss2 | 1954 | 147 | 6,100,000 | 9.8 | 4.2 |
| 11 | Blairderry-Grennan-Dergoals Mosses | 1954 | 543 | 20,020,000 | N/A | 3.7 |
| 12 | Dirskelpin, Mark of Luce & Knocketie | 1955 | 372 | 11,461,000 | 7.6 | 3.1 |
| 13 | Moss of Cree | 1954 | 419 | 14,403,000 | 7.6 | 3.1 |
| 14 | Nutberry Moss, Dornock Flow | 1967 and 1998 | Area not calculated | Volume not calculated | 7.5 | N/A |
| 15 | Dava Moss | 1955 | 760 | 18,350,000 | 7.5 | 2.5 |
| 16 | Achairn Moss | 1956 | 158 | 3,901,000 | 7.4 | 2.7 |
| 17 | Shielton Moss | 1958 | 2,684 | 81,980,000 | 7.5 | 3.1 |
| 18 | Auchencorth Moss | 1955 | Area not calculated | Volume not calculated | 9.5 | N/A |
| 19 | Bad na Baighe | 1955 | 5 | 120,320 | 4.6 | N/A |
| 20 | Lon Mor and Inchnacardoch | 1956 and 1958 | 5.8 | 104,900 | 4.3 | 1.8 |
| 21 | Ryeflat Moss | 1957 | 73 | 3,600,000 | 7.3 | 5.0 |
| 22 | Cranley Bog | 1957 | 93 | 3,340,000 | 7.5 | 3.6 |
| 23 | Coalburn Bog | 1957 | 70.1 | Volume not calculated | 5.1 | 3.8 |
| 24a | Townfoot and Holmhead | 1958 | Area not calculated | Volume not calculated | 4.0 | N/A |
| 24b | Racks Moss | 1958 | 500 | 21,682,400 | 7.0 | 4.6 |
| 24c | Ironhirst Moss | 1958 | 287 | 14,321,800 | 6.8 | 5.0 |
| 24d | Longbridge Moss | 1958 | 581 | 23,491,300 | 7.5 | 4.6 |
| 24e | Craigs Moss | 1958 | 325 | 8,219,100 | 5.9 | 3.0 |
| 25a | Kame | 1958 | 68 | 6,390,000 | N/A | 2.8 |
| 25b | Yell | U/K | Area not calculated | Volume not calculated | 5.5 | N/A |
| 26 | Altnabreac Moss - reclamation area | 1958 | Area not calculated | Volume not calculated | 2.5 | N/A |
| 27 | Gartur Bog | 1958 | 257 | 12,600,000 | 8.0 | 4.9 |
| 28 | Laggan Moss | 1963 | 296 | 9,973,100 | 7.3 | 3.4 |
| 29 | Monadh Nan Cathag | 1958 | 502 | 14,050,000 | N/A | 2.8 |
| 30 | Altnabreac Moss - extension | 1959 | 85 | 2,453,000 | 7.0 | N/A |
| 31 | Moss of Achnacree | 1959 | 200 | 3,790,000 | 3.5 | 1.9 |
| 32 | Moine Mhor | 1959 | 505 | 8,700,000 | 10.6 | N/A |
| 33 | Portree Bog | 1960 | 332 | 3,896,000 | 6.4 | 2.9 |
| 34 | Blacklaw Moss | 1959 | 32 | 1,471,000 | 7.5 | N/A |
| 35 | Harburn and Cobbinshaw Bogs | 1961 | 661 | 26,609,000 | 8.9 | 4.0 |
| 36 | Flow of Dergoals | 14960 | 370 | 8,400,000 | 9..8 | N/A |
| 37 | Knock Moss | 1961 | 180 | 5,349,000 | 6.4 | 3.0 |
| 38 | Dirnean Fell | 1960 | 41 | Volume not calculated | 6.7 | N/A |
| 39 | Annabaglish Moss, Drumbow and Challochglass Mosses | 1960 | 567 | 20,280,000 | 9.2 | 3.8 |
| 40 | Awhirk Moss | 1961 | 3 | Volume not calculated | 7.0 | N/A |
| 41 | Mindork Moss | 1961 | 182 | 6,290,000 | 6.8 | 3.5 |
| 42 | Glims Moss | 1962 | 124 | 3,720,000 | 6.3 | 3.0 |
| 43 | White Moss (Orkney) | 1961 | 26 | 900,000 | 6.3 | 3.4 |
| 44 | Kame of Corrigall | 1961 | 2,395 | Volume not calculated | >1.0 | N/A |
| 45 | Keelylang Hill | 1961 | 1,448 | Volume not calculated | >1.0 | N/A |
| 46a | Hobbister Hill | 1961 | 78 | Volume not calculated | 0.8 | N/A |
| 46b | Veness Hill | 1961 | 75 | Volume not calculated | 0.8 | N/A |
| 47 | Northwald-Backatown | 1961 | 80 | Volume not calculated | 2.0 | N/A |
| 48 | Greenay Hill | 1961 | 198 | Volume not calculated | 0.7 | N/A |
| 49 | Nun Rig | 1962 | 807 | Volume not calculated | 5.4 | N/A |
| 50 | Dogden Moss | 1962 | 158 | 7,260,000 | 8.9 | N/A |
| 51 | Jordonlaw Moss | 1961 | 32 | Volume not calculated | 7.3 | N/A |
| 52 | Broomiebank | 1962 | 85 | Volume not calculated | 4.5 | N/A |
| 53 | Corsbie Moor | 1961 | 20 | Volume not calculated | 1.3 | N/A |
| 54 | Gordon Moss | 1961 | 45 | Volume not calculated | 2.5 | N/A |
| 55 | Macks Mill | 1961 | 35 | Volume not calculated | 1.2 | N/A |
| 56 | Heathery Moss | 1961 | 54 | Volume not calculated | 1.5 | N/A |
| 57 | Din Moss | 1961 | 32 | Volume not calculated | 7.5 | N/A |
| 58 | Fans Moss | 1961 | 70 | Volume not calculated | 5.8 | N/A |
| 59 | Threepwood Moss | 1961 | 107 | Volume not calculated | 11.0 | N/A |
| 60 | Longmuir Moss | 1961 | 11 | Volume not calculated | 5.1 | N/A |
| 61 | Earnscleugh | 1961 | 11 | Volume not calculated | 2.3 | N/A |
| 62 | Borrowstoun Rig | 1961 | 13 | Volume not calculated | 1.0 | N/A |
| 63 | Earnscleugh Rig | 1961 | 9 | Volume not calculated | 1.2 | N/A |
| 64 | Crawlee Moss | 1961 | 4 | Volume not calculated | 0.7 | N/A |
| 65a | Polwarth Moss | 1961 | 18 | Volume not calculated | 2.3 | 1.4 |
| 65b | Shiningpool Bog | 1961 | 38 | Volume not calculated | 1.6 | 1.2 |
| 66 | Mountmain-Townlaw Area | 1961 | 329 | Volume not calculated | 2.0 | N/A |
| 67 | Deaf Heights Area | 1961 | 291 | Volume not calculated | 1.8 | N/A |
| 68 | Redscar Law-Maiden Law Area | 1961 | 508 | Volume not calculated | 2.6 | N/A |
| 69 | Scroof Hill-Dunlee Hill Area | 1961 | 160 | Volume not calculated | 0.9 | N/A |
| 70 | Barons Folly | 1961 | 11 | Volume not calculated | 2.9 | 1.5 |
| 71 | Rumster Forest | 1963 | 797 | Volume not calculated | 6.2 | N/A |
| 72 | Fiag Plantation | 1962 | Area not calculated | Volume not calculated | 3.9 | N/A |
| 73 | Lambhill Moss (New Pitsligo) | 1961 | Area not calculated | Volume not calculated | N/A | N/A |
| 74 | St Fergus Moss | 1961 | Area not calculated | Volume not calculated | 7.4 | N/A |
| 75 | Moss of Cruden | 1961 | 648 | Volume not calculated | 4.5 | N/A |
| 76 | Burreldale Moss | 1961 | 69 | Volume not calculated | 6.0 | N/A |
| 77 | Red Moss (Dyce) | 1961 | 219 | Volume not calculated | 5.7 | N/A |
| 78 | Skene Moss (Line 1) | 1961 | 52 | Volume not calculated | 6.6 | N/A |
| 79 | Moss of Air | 1961 | 71 | Volume not calculated | 5.3 | N/A |
| 80 | Red Moss (Candyglirach) | 1961 | Area not calculated | Volume not calculated | N/A | N/A |
| 81 | Hare Moss | 1961 | Area not calculated | Volume not calculated | N/A | N/A |
| 82 | Fala Moor | 1963 | Area not calculated | Volume not calculated | N/A | N/A |
| 83 | Wisdomhow Bog | U/K | Area not calculated | Volume not calculated | N/A | N/A |
| 85 | Auchlee Hill | U/K | Area not calculated | Volume not calculated | 0.9 | N/A |
| 86 | Wyndford | 1965 | Area not calculated | Volume not calculated | 3.0 | N/A |
| 87 | Wyndford Valley Bog | 1965 | Area not calculated | Volume not calculated | 7.5 | N/A |
| 88 | Eslie Moss | U/K | Area not calculated | Volume not calculated | 1.8 | N/A |
| 89 | Back Hill of Bush | 1965 | 990 | Volume not calculated | 6.0 | N/A |
| 91 | Letham Moss | U/K and 1998 | Area not calculated | Volume not calculated | 5.4 | N/A |
| 92 | Dornal Bog | U/K | 162 | Volume not calculated | 7.5 | N/A |
| 93 | Cairnadloch Bog | U/K | 60 | Volume not calculated | 2.5 | N/A |
| 94 | Red Moss | U/K | 138 | Volume not calculated | 6.6 | N/A |
| 95 | Kentra Moss | 1968 | 441 | Volume not calculated | 4.5 | N/A |
| 96 | Claish Moss | 1968 | Area not calculated | Volume not calculated | 5.1 | N/A |
| 97 | St Michael's Wood – Leuchars | U/K | Area not calculated | Volume not calculated | N/A | N/A |
| 98 | Lockshaw Moss | U/K | 32 | Volume not calculated | 8.0 | N/A |
| 99 | Druim na Moine | U/K | Area not calculated | Volume not calculated | 4.9 | N/A |
| 100 | Shelforkie Moss | U/K | 49 | Volume not calculated | >9.0 | N/A |
| 101 | Glen Bellart Bog | 1968 | Area not calculated | Volume not calculated | N/A | N/A |
| 102 | Cairn Duhie | U/K | 364 | Volume not calculated | 5.7 | N/A |
| 103 | Achneim | U/K | Area not calculated | Volume not calculated | 3.6 | N/A |
| 104 | White Moss (Peeblesshire) | U/K | Area not calculated | Volume not calculated | 6.7 | N/A |
| 105 | Machrie Bog | U/K | Area not calculated | Volume not calculated | 2.5 | N/A |
| 106 | Carnoch | U/K | 335 | Volume not calculated | 5.4 | N/A |
| 107 | Methven Moss | U/K | 57 | Volume not calculated | 7.2 | N/A |
| 108 | Ulbster Bog | U/K | Area not calculated | Volume not calculated | 10.8 | N/A |
| 109 | Giar Hill, Caithness | U/K | Area not calculated | Volume not calculated | 5.8 | N/A |
| 110 | Dunnet Hill/ Moss of Dunnet | U/K | Area not calculated | Volume not calculated | 2.0 | N/A |
| 111 | Bogach nan Sgadan | U/K | 344 | Volume not calculated | 6.0 | N/A |
| 112 | Glen Gerisdale | U/K | 180 | Volume not calculated | 4.3 | N/A |
| 114 | North Shielton Bog and Moss of Toftingall | U/K | 890 | Volume not calculated | N/A | N/A |
| 115 | Craigencrow Moss | U/K | Area not calculated | Volume not calculated | N/A | N/A |
| 116 | Moss Morran | U/K | Area not calculated | Volume not calculated | N/A | N/A |
| 117 | Wartle Moss | U/K | Area not calculated | Volume not calculated | 2.0 | N/A |
| 118 | Bogach nan Sgadan (reclamation) | U/K | 57 | Volume not calculated | N/A | N/A |
| 119 | Braid Fell, Sheuchan & Quarter Fell | U/K | Area not calculated | Volume not calculated | N/A | N/A |
| 120 | West Freugh | U/K | Area not calculated | Volume not calculated | N/A | N/A |
| 122 | Greenhead Moss | 1993 | Area not calculated | Volume not calculated | 5.2 | N/A |
| 113a | Dale Moss | U/K | Area not calculated | Volume not calculated | N/A | N/A |
| 113b | Feith Shalloch Bog | U/K | Area not calculated | Volume not calculated | 4.8 | N/A |
| 113c | Hecken Big | U/K | 41 | Volume not calculated | 3.2 | 1.8 |
| 113d | Marl Moss | U/K | 12 | Volume not calculated | 2.0 | 1.1 |
| 113e | Moss of Greenland | U/K | 122 | Volume not calculated | 1.6 | 1.2 |
| 113f | Moss of Toftingall | U/K | Area not calculated | Volume not calculated | 7.0 | N/A |
| 113g | Refaithy Bog | U/K | 81 | Volume not calculated | 5.0 | 2.4 |
| 113h | Scorrie Moss | U/K | 41 | Volume not calculated | 2.2 | 1.4 |
| 113i | Stroupster and Hollandmet | U/K | Area not calculated | Volume not calculated | 5.0 | 2.2 |
| 113j | Weydale | U/K | 101 | Volume not calculated | 1.6 | 0.8 |
| 113k | Yellow Moss | U/K | 121 | Volume not calculated | 2.0 | 1.0 |
| MI2 | Creca Moss | 1997 | N/A | N/A | 8.4 | N/A |
| MI12 | Drumbow Moss | 1997 | N/A | N/A | 6.8 | N/A |
| MI13 | Drumbreck Moss | 1997 | N/A | N/A | 9.5 | N/A |
Footnotes:
Interpolated values from field observations
All peat area surveyed, not only that greater than 0.5m
Summary of 17 selected sites
A summary of data on the number of point measurements, area and mean depths has been generated for 17 selected sites. This will be updated as information becomes available.
Notes:
Identifier:
1 to 70: Scottish Peat Committee Moss Survey report number
71 to 122: Macaulay Institute for Soil Research survey number
MI: Post-1984 survey codes
Name:
Name of peat deposit or bog
Survey year:
Year of survey published, if known. U/K not recorded on map.
Total Area (ha) (>0.5 m depth):
Area to nearest ha, of peat greater than 0.5 m. For full topographic surveys, the area can be calculated
Total Volume (m3):
Volume of peat for areas greater than 0.5m deep. For full topographic surveys, the volume can be calculated
Max. Depth (m):
Maximum measured depth, unless otherwise stated
Mean depth (m):
Mean depth of areas greater than 0.5 m deep.
Collated from survey data records, by:
David Miller – formerly surveyor, Peat and Forest Soils, Macaulay Institute for Soil Research and Macaulay Land Use Research Institute, currently Knowledge Exchange Coordinator, James Hutton Institute
Allan Robertson – formerly Head of Department, Peat and Forest Soils, Macaulay Institute for Soil Research
John Bell – soil surveyor, Soil Survey of Scotland, Macaulay Institute for Soil Research, and peat surveys, Macaulay Land Use Research Institute
James Anderson - formerly of the Peat Section, Peat and Forest Soils, Macaulay Institute for Soil Research
Jane Morrice - formerly of Peat and Forest Soils, Macaulay Institute for Soil Research, Macaulay Land Use Research Institute and James Hutton Institute