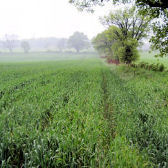 The Agroecology group is funded from three main sources - the Scottish Government, the EU and a range of industrial and policy partnerships. The Scottish Government programme 2011-16 and 2016-2021 supports strategic research on ecosystem services, biodiversity and ecosystem function in the lowland arable-grass croplands of the north-east Atlantic. The group also contributes to work in the Scottish Government funded Centres of Expertise in Waters [1] and Climate Change.
Newton Fund
Work has begun (March 2017) in the Group as part of two Virtual Joint Centres in Nitrogen Fixation, supported by the Newton Fund, which uses 'sciences and innovation partnerships to promore economic development and social welfare of partner countries'.
The contracts are worth around £400k to the Institute. Euan James will head up the work, which involves light and electron microscopy and measures of N fixation. Agroecology contacts: Euan James [4] and Pete Iannetta [5].
EU grants and networks
The group is part of major EU networks linking more than 100 partners across Europe in major collaborative projects.
Industrial and policy collaborations
UK industrial collaborations take scientific findings to applications in farming, processing and landscape engineering. Recent and current projects include definition and selection of wheat ideotypes for reduced input cropping (Sustainable Arable Link, 2011-2014); biopesticides as replacement for EU pesticide withdrawals (SCEPTRE, now managed through the Chemical Ecology group), Technology Strategy Board projects (Physical fruit and Beans4Feed), new scoping grants from National Grid and Scottish Natural Heritage and two Newton grants to be added shortly.