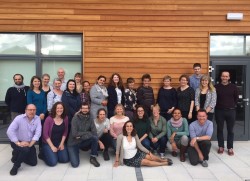 The SEGS department is organised into four groups: Environmental governance (led by Alice Hague [1]), Land and People (led by Maria Nijnik [2]/Annie McKee [3]), Changes in People-Place Relations (led by Mags Currie [4]), and Sustainable Transitions & Behaviours led by Kathryn Colley [5]. We work within and across groups on a wide range shared research interests, and our research aims to inform understanding of real-world problems, often working with stakeholders, to improve outcomes through inclusive, ethically responsible research.
Our research explores the complexities – and consequences – of how different actors, policies, and institutions are intertwined in decisions that affect the natural environment and land management. We investigate and inform decision-making and processes in Scotland, the UK and beyond.
Our department comprises social scientists from a wide range of disciplinary backgrounds, including sociology, ecological and environmental economics, politics, anthropology and geography. We accordingly draw on a variety of theoretical approaches and concepts.
We use a wide range of research approaches and data collection methods ranging from semi-structured interviews, focus groups or workshops, scenario-planning processes, ethnographic methods and observational data, to video and other visual methods such as digital story-telling. We also use mixed methods and quantitative methods such as surveys, choice experiments and modelling approaches. Increasingly the group explores how virtual platforms and methods e.g. Delphi, webinars, virtual reality, can complement face-to-face interactions for data collection.
Examples of topics studied across our reserach groups and Department
Digitalisation in rural areas and of farming systems
Natural capital accounting, valuation and use in decision-making & value chains
Environmental policy coherence & integration
Social innovation in rural areas & smart villages
Partnership working and governance at catchment & landscape scales
Environmental justice and conservation conflicts
Social and behavioural aspects of the transition to a circular economy
Food and nutrition security, sustainable food systems and socio-technical change
Games and gamification of farming practices
Futures-oriented approaches to planning multifunctional land-use
Nature-based solutions to environmental challenges
Transition to green post-carbon economies & societies
Land Use, Land Use Change and Forestry (LULUCF) to mitigate climate change
Agri-tourism and other forms of rural diversification
Land rights and land access
Outdoor recreation, access to greenspace, and health and wellbeing
Agricultural knowledge systems, on-farm demonstration & peer-to-peer learning
Demographic and socio-economic change in sparsely populated areas
Place-based policy and community resilience
Sustainability transitions (including energy infrastructure)
Everyday environmental behaviour (including energy, transport, and food)
Representing people-environment interactions in computational models