Gillian has a Masters in Environment and Development from the Centre for Environment, Agriculture and Development, University of KwaZulu-Natal, Pietermaritzburg, South Africa. Following graduation she worked as a Landscape modeller / Environmental consultant in South Africa until joining the Institute in December 2009. Gillian has worked with a number of 3D modelling, GIS and visualization systems on different computing platforms since the early 1990's. Her current responsibilities include Landscape and Marine model development [2], project research, and Virtual Landscape Theatre [3](VLT) operation and presentation. Some of her 3D interactive models for the VLT can be seen here [4].
Current research interests
[5]
Gillian's past and current research interests have largely focused on the application of landscape visualization in public participation and environmental problem solving, including landscapes, river rehabilitation, peatlands, natural flood managment (NFM) and onshore / offshore renewables. Some of Gillian's landscape visualizations have been used in urban greening exercises in South Africa, as well as Scottish government sponsored RESAS work packages and Green Health projects in Scotland. Recently she has been involved in 3D visualizations of marine topologies, onshore / offshore renewables [6], peatland restoration, aquaculture and flood risk mapping. She is also interested in promoting the application and take-up of scientific visualization within the broader scientific community, including high-performance Virtual Reality (VR) systems (e.g. Oculus Rift [7]) and immersive stereoscopic CAVEs. Gillian is currently registered for a part-time PhD in Peatland Hydrology.
Past research
Visualizations from a few of her past projects are listed below.
Visualising Peatland Restoration
We have developed a prototype 3D simulation of the Forsinard peatlands which visually illustrates the progress of restoration in different areas of the RSPB Forsinard reserve. The aim of the visualisation is to show the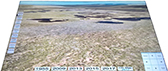 [8] viewer a chronosequence of the peatland restoration process and the underlying management, current knowledge and research. The visualisations allow the viewer to dynamically fly through the peatland, switch scenarios showing past, present and (near) future states, while allowing the viewer to experience and examine the peatlands in an immersive environment. We are also currently exploring the usefulness of the visualisations in predicting the trajectory and timelines of restoration efforts. A simplified version of the model, using the same software, was also generated for use with Oculus Rift VR headsets.
A prototype of the simulation was demonstrated on laptop and VR headset at the Research in the 'Flow Country': Thinking Big Conference, Thurso, 21-23 March, 2017. The model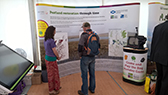 [9]attracted interest from stakeholders including RSPB and SNH. A complete version was demonstrated on a touch table at the Royal Highland Show 22-25 June, 2017. This model attracted considerable interest from stakeholders and community members familiar with, or resident in, the area. The VR model was also demonstrated at the Scottish Game Fair 30 June – 2 July, 2017.