Cereals in Practice is the annual showcase of variety trials and research organised by the James Hutton Institute, SRUC [1] (Scotland's Rural College) and the Scottish Society for Crop Research [2].
Aimed at farmers, agronomists, industry and scientists working with cereals, this event brings variety trials and current research together in one place providing a unique opportunity to discover and discuss the latest recommendations and developments in the cereals industry.
Cereals in Practice is a unique event, bringing variety trials and research together in one place. It combines the James Hutton Institute's former cereals event, Cereal Solutions, with the SRUC Angus/Perthshire Agronomy Centre wheat and barley variety and management trials, to create a must-attend event for anyone interested in cereal farming and associated industries.
Join in the conversation before, during and after the event #CerealsInPractice
Register here [3]
Timetable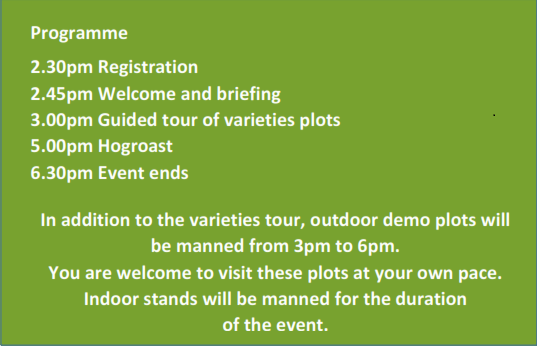 Field Trials and Demonstrations
Barley choices: key performers and what to look out for in 2017/18
The SRUC spring barley list is the longest for many years, with several new varieties at provisional approval for malting use. The winter barley list brings new high yielding choices in both two- and six-row varieties.
Breeding for diastatic power in UK barley
Diastatic power is an important malting quality characteristic, but there has been little improvement in recently introduced cultivars. This demonstration shows how we have identified genetic variation within current elite varieties that will be available to breeders for selecting a new generation of high diastatic power barley.
Protein crops and CAP greening
Demonstration of intercropping opportunities using protein crops and CAP greening cover crops and N fixing crops in-field and the carry-over effects of these crops from 2016 on a SB crop.
Winter cereal-legume mixtures for biomass production
Both winter rye and winter oats are high biomass producers, and winter peas and vetch contribute biomass and nitrogen either directly to subsequent crops such as undersown ryegrass.
Fungicide strategies and IPM approaches for barley
The latest updates on fungicides for barley will be disussed along with new research investigating opportunities for using IPM approaches to reduce fungicide inputs.
Why do spring oats have a lower N fertiliser requirement than barley?
Research is being conducted to understand the mechanisms by which oats are able to capture more N than barley in order to identify suitable traits for increasing the N use efficiency of barley.
Mains of Loirston Winter Wheat Challenge
This is a competition where the farmers and advisers of the future pit their wits against each other to achieve the crop with the highest gross margin.
SRUC Crop Clinic
Join us at the crop clinic stand where you can discuss any crop protection problems you have this season. See demonstrations and updates on this season's top issues and gather ideas on pre-planning and soil testing to reduce the disease burden in your crops.
You are welcome to bring photos of problems you want a diagnosis of and discuss control options with specialists. If you want to bring 'live' samples then make sure they are double bagged and well sealed so that they don't create any biological risk to our host farmer.
Dry weather has shown up all sorts of root problems this year with root grazing nematodes causing particular problems. In spring barley crops BYDV has been common after early flights of aphids.
Ever wondered how to differentiate Ramularia from other barley spots and diseases? We will be running Ramularia master classes. Learn about the 4 Rs that differentiate Ramularia from net blotch, abiotic spots and other leaf blemishes – rectangular, ring of chlorosis, right through the leaf and reddish-brown.
Indoor Stands and Demonstrations
Bere, a potential resource against Manganese deficiency?
Cereal Informatics - from Bits to Bites
Crop Clinic
Breeding for Durable Resistance to RhynchosporiUM in Barley (DRRUM)
Opti-Oat
PLAID: Peer-to-Peer Learning Accessing Innovation through Demonstration
International Barley Hub
Centre for Sustainable Cropping
Rowett Institute of Nutrition and Health
James Hutton Limited
Plus general displays from event partners James Hutton Institute, SRUC and AHDB.
Location - Saphock Farm, Oldmeldrum AB51 0EY
The event is being held at Saphock Farm which is located on the A920 between Oldmeldrum and Meikle Wartle. There will be a few event signs on the A920 - look out for these so you don't miss the turn off to Saphock Farm.
BASIS Points
A total of 4 BASIS points have been allocated to this event. You can sign up for these on arrival.
Registration
While this is not a prerequisite to attending, pre-registering will ensure we arrange enough catering for everyone as well as speeding up the registration process on the day. Please click the online registration form below:
Contact
If you have any queries about the event, please contact Pam Cassidy, Events Co-ordinator, The James Hutton Institute, Invergowrie, Dundee DD2 5DA. Email: events@hutton.ac.uk [4], Tel: 01382 568 751.