My research interest lies in the interactions between bacteria and their plant hosts. The research is primarily focused on food-borne bacteria, but also covers opportunistic plant pathogens because of the many similarities in the types of interactions; transmission of the bacteria through the wider environment and the plant host response.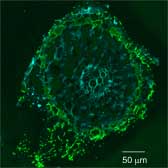 [2]Pathogenic enterobacteria Escherichia coli, Salmonella enterica and Klebsiella pneumoniae are normally associated with animal reservoirs. However, a significant proportion of food poisoning outbreaks are attributable to fresh produce (fresh fruit and vegetables). We have good evidence to show that the bacteria are not transported by the plant in an inert manner, rather they interact with plant hosts at a molecular level and are able to replicate both on external and internal plant tissue. Comparative genomics has shown that enteric human pathogens are closely related to enteric plants pathogens, in particular Pectobacterium spp. (formerly Erwinia) (sequenced by Ian Toth and colleagues: Bell et al., 2004 PNAS 101:11105). The comparison allows identification of key genes that are involved in interactions with plants, at the first step of adherence and the subsequent steps of invasion and persistence.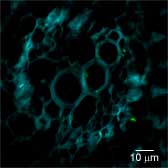 [3]The research on food-borne pathogens investigates bacterial factors required for different stages of colonisation, as well as the plant response. We also investigate transmission of bacteria in agricultural systems, from soil amendments to harvested crops. Projects with plant pathogenic bacteria are on-going to find alternative treatment options to current bactericides. The over-all aim of the research is to gain a better understanding of the mechanisms that govern bacteria-plant interactions, with the goal of reducing human illness and plant disease.
Current research interests
Externally funded research projects
Identification and characterisation of

EHEC

adherence factors that interact with plant tissue. Funded by the

BBSRC

, Oct 2011 – Sept 2014

Transcriptome

analysis of

enterohaemorrhagic

Escherichia

coli

in

planta

. Jointly funded by the James

Hutton

Institute and the University of Reading, Oct 2011 - Sept 2014
Defining the interactions between plant cell walls and bacterial surface factors. Funded by the

Leverhulme

Trust,

Feb

2012 – Jan 2015
Other projects funded by RESAS investigate aspects of the plant host response to zoonotic bacteria as well as the population genetics of plant and environmental isolates of Escherichia coli.
Past research
Previous research has focused on the regulation of bacterial factors that enable them to adapt to different hosts and environments.
Collaborators
At the James

Hutton

Institute with partners in Environmental and Biochemical Sciences and in Controlling Weeds, Pests and Diseases research theme.
Professor David

L

.

Gally

; Dr Maurice

P

. Gallagher (University of Edinburgh)
Dr

Thamarai

Schneiders

(University of Belfast)
Professor Dale Walters (SAC)
Dr Rob Jackson (University of Reading)
Dr Ruth

Zadocks

(

Moredun

Research Institute)