Virtual Landscape Theatre
The Virtual Landscape Theatre (VLT) is a mobile curved screen projection facility, in which people can be 'immersed' in computer models of their environment to explore landscapes of the past, present and future.
Read more about the Virtual Landscape Theatre [1].
TouchTable

The TouchTable or SUR40 is a is a user-friendly surface computing technology that makes it possible for people to share, collaborate and explore together using a display that recognises fingers, hands and other objects placed on the screen.
Read more about the TouchTable. [2]

Pipit Run
Our exhibit. 'Pipit Run' demonstrates how sheep and cattle grazing affects upland wildlife. This exhibit is available on loan to organisations involved in communicating science to the public. Please email us [3] for more details.

Colonise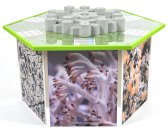 Colonise is a game about lichen survival. See how lichens compete with each other for space, how they are affected by changes in the environment, and what happens when a hungry slug comes looking for a meal.