Resources for Schools
Barley and Me
Barley and Me [1] is a fun, interactive and educational game to see if you've got what it takes to run and manage a farm. Work through five levels to control your inputs and see if you can make a profit over 10 years and improve your farm. During each level mini-games will test your co-ordination to earn bonus points. Get bonus questions right and work towards achieving a top score, 100% is possible! Be warned, harm the environment and your score will suffer...
Introduction to Soils
Introduction to Soils [2] is a series of poster resources for senior school pupils to help explain soil knowledge. They were developed with assistance from Geography teachers.
Soils of the Crofts
Soils of the Crofts is a valuable resource for teachers and pupils in Crofting Connections schools which will help them deepen their knowledge of the soil through practical tasks like making wormeries and compost heaps or recreating lazy-beds, as well as through science experiments, creative activities and social studies. But most of all, it is an invitation to get to know and treasure the soils beneath their feet. Explore the Soils of the Crofts [3].
The Living Field
The Living Field interactive educational resource has more than 300 pages of high-quality images, sounds, games, and activity sheets designed to enhance and enrich pupils' knowledge and interest. You can download it here [6].
Wood Ant Activity Pack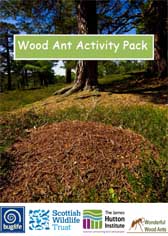 This activity pack is a resource for teachers, wildlife group leaders or countryside rangers. It contains a collection of games and activities that can be incorporated into a guided walk or used as stand-alone games at an event or a nature club. The games and activities are based around the everyday lives of wood ants and illustrate nest building, team working, feeding, colony defence and the special relationships wood ants have with other forest dwellers.