Plugging the evidence gap
The National Soil Inventory of Scotland is a regular grid of sample locations that were sampled in 1978 – 87 and was re-sampled from 2007-10 to: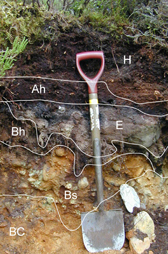 [1]
measure any changes in the last 25 years
test new indicators of soil health
test UK and EU monitoring methods
report on the status and stock of organic carbon and nutrients in the soil and their risk from threats such as climate change.
Soil forms in layers called horizons. These are sampled from an inspection pit dug down to 1 metre. Samples are air dried and analysed, then stored here.
Fresh and frozen samples are also taken to extract and analyse DNA to help understand the biology of our soils better.
The field protocols for both the first National Soil Inventory of Scotland [2] and the second National Soil Inventory of Scotland [3] are available for downloading using the above links.