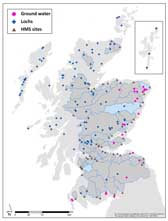 [1]The James Hutton Institute is currently working with partners, SEPA and Scottish Water, to undertake a national waters inventory for Scotland. This inventory is currently underway and is taking place over a national set of sites (Figure 1 right).
A national baseline study of the state of Scotland's water resource is required to understand resilience to the accumulating catchment pressures of delivering national objectives for food and renewable energy production, water supply for people, ecology and industry. We combine powerful analytical tools to build a picture of the state of our water resource.
Analyses used in the inventory
Isotopic tracers of diffuse pollution
Nitrate isotope data δ15N and δ18O in NO3- will be interpreted together with hydrological and chemical data to provide information on nitrate pollution sources.
Microbial processes can change the isotope signature of the nitrate source during transport and this will be assessed via focussed N cycling studies. Additionally, isotopes of boron δ11B will assist in tracing sewage sources.
Organic matter characterisation
This is used to determine compositional quality of dissolved and particulate organic matter.
Spectroscopic analysis allows quick and well-developed method for characterisation of dissolved organic matter. We will use: UV-Visible absorbance, chemical functional groups (FT-IR) and spectrofluorimetry (Excitation-Emission Spectroscopy) (Figure 2 below).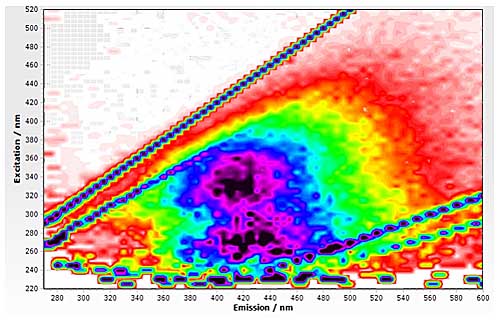 Figure 2: Excitation-emission spectra for natural organic matter to be used as a typing rapid screening method for identifying potential of organic matter for interactions with water treatment chemicals and transport of contaminants.
The waters DNA archive
We will develop a comprehensive DNA archive resource containing molecular data on pathogens and functional characteristics of microbial communities. Standard techniques are being employed alongside application and development of emerging DNA methodologies targeting both sediment and water column communities. The data is essential to understand pathways and transport of faecal microorganisms and other pathogens and map microbial risks across waterbodies.
Other analytical capabilities for waters
The James Hutton Institute can bring an impressive array of both instrumentation and expertise to bear for the analysis of waters and for research within the aquatic environment. Our laboratories are accredited to the international quality standard ISO 17025.
1) High throughput elemental analysis across a broad range of concentrations from the parts per million to the sub parts per trillion range is possible using inductively coupled plasma (ICP) instruments, with optical and mass spectrometer detection. Total reflection X-ray fluorescence (TXRF) instrumentation provides the option to measure a suite of elements in extremely small sample volumes. Typical applications include nutrient cycling, heavy metal loadings in rivers and assessment of riverbank erosion.
2) Analysis and screening for persistent organic pollutants including polyaromatic hydrocarbons (PAHs), poly chlorinated biphenols (PCBs) and both natural and synthetic oestrogens (E1, E2 etc.) are routine. Applications include tracing the source, fate and risks of organic pollutants in the aquatic environment, this includes use of 'in river' passive sampling devices to monitor insidious low level concentrations.
3) Exploitation of small natural variations in stable isotopes such as 2H, 18O and 87Sr are used extensively in the aquatic environment through the utilisation of our isotope facilities which include isotope ratio mass spectrometers, thermal ionisation mass spectrometers and infrared cavity ring down spectrometers. Applications include developing isotope maps (Isoscapes) to tracing potential sources of phosphate and tracing water flows in catchments.
4) Many other instruments are available to provide full characterisation of water from pH and suspended solids to full chemical characterisation including total organic and inorganic carbon, phosphate, nitrate, ammonium etc.
Staff involved in this work: Lisa Avery [2], Barry Thornton [3], Sarah Dunn [4], Geoff Elliott [5], Zulin Zhang [6], Gareth Newman [7], Pat Cooper [8].