The Water Framework Directive (WFD) aims to deliver good ecological status (GES) for Europe's waters. It includes economic principles, such as the use of cost-effectiveness analysis of measures to achieve GES and of derogation on grounds of disproportionate costs of mitigation. The James Hutton Institute has developed a national framework for applying the cost proportionality principle to diffuse pollution mitigation in Scottish lochs.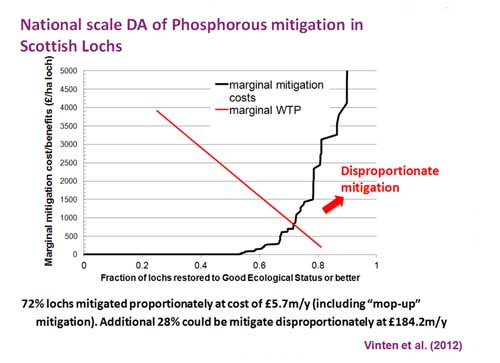 [1]
Figure 1: National- scale disproportionality analysis of mitigation in Scottish Lochs. Vinten et al. (2012).
To find out more about this work contact Dr Andy Vinten [2].
We are also working on identifying the wider benefits that water quality measures provide. A stakeholder consultation process was carried out in the area of the Loch of Skene to identify the potential wider benefits beyond the water environment resulting from improving water quality. Download the summary leaflet below.
To find out more about this work contact Dr Julia Martin-Ortega [4].