Payment for Ecosystem Services (PES) schemes are attracting increasing interest as policy mechanisms to improve conservation and achieve sustainable development outcomes. At the James Hutton Institute we are investigating the use of PES in relation to water. PES initiatives aim to reach mutually beneficial agreements between providers and users of ecosystem services, entailing a reward mechanism for ecosystem managers for maintaining or improving the provision of the services valued by beneficiaries.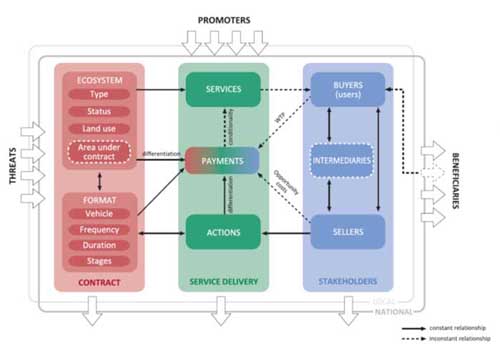 [1]
Figure 1: Evidence-based conceptual model of water PES schemes in Latin America experience. Martin-Ortega et al. (2012).
This film created by the James Hutton Institute and GRID-Arendal helps to explain Payment for Ecosystem Services (PES) schemes. It has been produced as part of the James Hutton Institute - UNESCO Global Dialogue on Water Ecosystem Services [2].
For more information contact Dr Julia Martin-Ortega [3].