Barley Transformation
Barley donor plants are grown in a controlled environment where temperature, light and humidity are closely monitored. Tillers are collected at 16 weeks old. Following sterilisation, the immature embryo is isolated and co-cultivated with Agrobacterium cells containing the transformation vector. The embryos are transferred to fresh media to induce the development of callus. Embryonic calli are then transferred to regeneration media until they produce shoots. Transgenic shoots are transferred to soil in the glasshouse and grown to collect seed. The whole procedure from seed to seed takes around 10 months.
Barley transformation timeline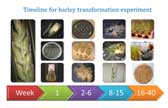 Agrobacterium-mediated transformation of barley has become more efficient in recent years with the development of new methods and protocols making high-throughput experiments more achievable. We routinely use the barley cultivar 'Golden Promise' to transform as it is currently the most responsive in tissue culture. We are testing the regeneration potential and transformation efficiency of other recalcitrant cultivars for future development.