Diffuse pollution modelling
Data from spatial monitoring of water quality provided parameter sets for validation of catchment scale models. These have been used in a number of externally funded research projects including REFRESH.
REFRESH is a research project in which James Hutton Institute scientists are working together with 25 European research partners as part of an FP7 European Union-funded initiative looking at adaptive strategies to mitigate the impact of climate change on European freshwater ecosystem.
Tarland: N & P modelling
This project aims to:
understand current nutrient sources, pathways and transformations
investigate scenarios of change under different land management, land use and climate scenarios
ensure utility of model predictions by quantifying uncertainty
INCA-N and –P: Semi-distributed, dynamic, catchment scale model
uncertainty framework (multiple MCMC)
model calibration: 1.5 years of daily data.
Nitrate modelling – future scenarios
The flow pathways followed by water as it moves through the soil and across its surface are important in determining the hydrological and water quality characteristics of receiving surface and groundwater bodies. Understanding of the processes governing the movement of water is poor, because of the heterogeneity in physical properties of the land and difficulties in observing sub-surface behaviour. Tracers that are either added to the system or occur naturally within it, provide a means of monitoring the integrated response of a receiving water body and can improve understanding of both the sources and timescales of hydrological transport. Future studies will include investigation of the utility of measuring isotopes of nitrate in water (δ15N and δ18O) as a means of improving understanding of the sources of diffuse pollution.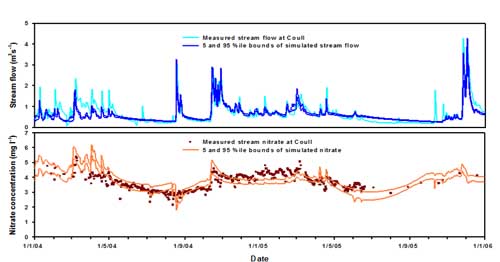 Figure 1: Nitrate modelling Baseline model validation: 2004-06.
Publications
Dunn, S.M., Castellazzi, M., Shahgedanova, M., Jackson-Blake, L., Brown, I., Sample, J., Helliwell, R.C. 2012. Modelling scenarios of land use and climate change on diffuse pollution from agricultural nitrate. Proceedings of the 11th BHS National Hydrology Symposium, University of Dundee, 9-11 July 2012.
Jackson-Blake, L., Dunn, S.M., Hershkovitz, Y., Sample, J., Helliwell, R.C., Balana, B. Biophysical catchmen-scale modelling in the River Dee, Scotland. Deliverable 5.3: REFRESH website.
Jackson-Blake, L.A., Dunn, S.M., Helliwell, R.C. Strategies to mitigate the impacts of climate change on European freshwater ecosystems. Interim report on the biophysical catchment-scale modelling in the River Dee, Scotland. EU FP7 REFRESH Project. Integrated Biophysical Modelling (WP5) Reporting.
NERC funded Macronutrient Programme (Long Term Large Scale)
The overall goal of the Macronutrient Cycles programme is to quantify the scales (magnitude and spatial/temporal variation) of N and P fluxes and nature of transformations through the catchment under a changing climate and perturbed C cycle.