Plant pest and pathogen collections
The James Hutton Institute has generated nationally important reference collections of plant pests and pathogens that are maintained with the support of the Scottish Government. The majority of the collection has been genetically characterised providing representative samples of major microbial threats to Scottish crops.
These collections are crucial for understanding the biology and ongoing evolution of the plant pests and pathogens and a key resource for many other studies; for example, pesticide insensitivity or plant resistance breeding programmes. The cultures are available as either living specimens or DNA samples. Further details, key references and contacts for specific collections are listed below.
Phytophthora infestans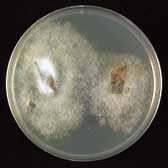 Cultures and DNA of several thousand isolates of UK, EU and global origin. This includes reference strains of dominant clonal lineages typed using the SSR fingerprinting system the majority of which are detailed in the Euroblight database.
Contact: David Cooke and Eva Randall
References
Cooke, D.E.L., Cano, L.M., et al. 2012. Genome analyses of an aggressive and invasive lineage of the Irish potato famine pathogen. PLoS Pathogens 8(10) e1002940. (doi:10.1371/journal.ppat.1002940)
Other Phytophthora species
A collection that dates back to work on Soft fruit Phytophthora (Jim Duncan and Diana Kennedy) and, via national and international collaborations, now includes isolates of over 60 species from horticultural plants, trees and natural ecosystems. Almost all isolates have been characterised using rDNA ITS sequencing.
Contact: David Cooke and Eva Randall
References
Scibetta, S., Schena, L., Chimento, A., Cacciola, S.O., Cooke, D.E.L. 2011. A molecular method to assess Phytophthora diversity in environmental samples. Journal of Microbiological Methods 88, 356-368.
Bacterial soft rot pathogens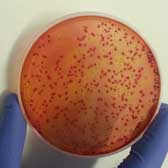 A large collection of potato soft-rot Pectobacterium and Dickeya isolates.
Contact: Sonia Humphris
References
Pritchard, L, Humphris, S, Baeyen, S, Maes, M, Van Vaerenbergh, J, et al. 2013. Draft Genome Sequences of Four Dickeya dianthicola and Four Dickeya solani Strains. Genome Announcements 1. (doi:10.1128/genomeA.00087-12).
Plant and human bacterial pathogens
A collection of over 100 environmental E. coli isolates obtained from agricultural field trials and associated sources (soil, plant and bovine) that have been used to characterise E. coli in the wider environment and relate to potential transmission pathways. (Holden et al, 2013).
Contact: Nicola Holden
References
Holden, N. J., Wright, F., MacKenzie, K., Marshall, J., Mitchell, S., Mahajan, A., Wheatley, R., and Daniell, T. J. 2013. Prevalence and diversity of Escherichia coli isolated from a barley trial supplemented with bulky organic soil amendments: green compost and bovine slurry. Letters in Applied Microbiology 58, 205–212.
Potato nematode pests
A collection of long-established Scottish, UK and international Globodera pallida and Globodera rostochiensis reference populations.
Contact: Vivian Blok
References
Cotton, J.A., et al. 2014. The genome and life-stage specific transcriptomes of Globodera pallida elucidate key aspects of plant parasitism by a cyst nematode. Genome Biology 2014 Mar 3;15(3):R43. (doi: 10.1186/gb-2014-15-3-r43). Linked to The genome and life-stage specific transcriptomes of Globodera pallida elucidate key aspects of plant parasitism by a cyst nematode.
Cereal and potato fungal pathogens
A collection of Rhynchosporium commune isolates from Barley plus cultures of many skin blemish and fungal rot pathogens from potato.
Contact: Adrian Newton (barley) and Alison Lees (potato)
References
Zhan, J., Yang, L., Zhu, W., Newton, A.C. 2012. Pathogen populations evolve to greater race complexity in agricultural systems - evidence from analysis of Rhynchosporium secalis virulence data. PLoS One 7(6): e38611.
Lees, A.K., Brierley, J.L., Stewart, J.A., Hilton, A.J., Wale, S.J., Gladders, P., Bradshaw, N.J. and Peters, J.C. 2010. Relative importance of seed-tuber and soilborne inoculum in causing black dot disease of potato. Plant Pathology 59, 693-702.
Viruses and associated antibodies
A collection of >120 plant viruses, including the major viral pathogens of potato (PVY, PVA, PVV, PMTV, TRV, PVS, PLRV), raspberry (TRSV, TBSV, RpRSV, RBDV, BRNV) and blackcurrant (BRAV). Associated antisera and monoclonal antibody secreting hybridomas raised against a very wide range of plant viruses and virus isolates are also available.
Contact: Graham Cowan
References
Cowan, G.H., Chapman, S., Ziegler, A., Roberts, A.G., Savenkov, E.I. and Torrance, L. 2012. The potato mop-top virus TGB2 protein and viral RNA associate with chloroplasts and viral infection induces inclusions in the plastids. Frontiers in Plant Science 3, 1-15.