Potato Transformation
We are working to establish a high-throughput Agrobacterium-mediated potato transformation method using the Solanum tuberosum cultivar Desiree. We have performed a number of experiments to test a range of explant material as well as testing our methods in other cultivars. Our nuclear stock plants are obtained from SASA and replaced every 12-18 months to ensure our starting material is pathogen-free. These plants are micropropagated and maintained in a controlled environment for up to six weeks for use in transformation experiments. Explants are cut and incubated with Agrobacterium containing the transformation vector.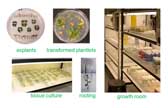 Following the co-cultivation period, the explants are transferred to selective medium to induce somatic embryogenesis. Callus development takes six to eight weeks, before the appearance of green shoots. Once established, the shoots can be transferred to soil in the glasshouse or maintained in tissue culture indefinitely.
The photo at the top of the page shows a wild type potato (left) alongside a potato that has been transformed with a construct containing the phytoene synthase gene under control of a tuber specific (patatin) promoter. The orange colour is due to increased production of pigments called carotenoids that have antioxidant properties shown to have beneficial effects on health.