DigiEthics: Navigating Digital Ethics for Rural Research
DigiEthics is a collaborative methods project that explores, from an ethics point of view, how researchers and administrators of rural community Facebook groups can agree on the conditions to utilise such networks for better research. This includes considering which aspects need to be addressed, the pros and cons of potential approaches, and potential challenges and solutions.
Background
Online spaces such as Facebook groups have become part of the fabric of social interaction in many rural areas, with both residents and others living away from the community maintaining a connection in the virtual space. Community Facebook Groups are routinely used to share place-based information about resources, events or issues, and to discuss topics of shared interest. In research, these groups offer the potential to allow us to connect directly with people who have an interest in what happens within specific communities and offer rich opportunities for participants to engage with research. However, inclusion, representation, and the rural digital divide all need to be considered in research design and reflected upon during analysis.
Despite the fast development of social media during the last decade, digital ethics is a methods sub-field in continuous development that poses challenges to social sciences and humanities researchers. Apart from platforms' changing terms and conditions, research with and on social media groups has specific ethical challenges (e.g. around anonymity, confidentiality, and data access) that require tailored consideration. In particular, when approaching netnography and similar methods with social media groups, dialogic approaches aimed to engage, respect and protect participants are critical (Mayne 2017). There is consensus on the need to agree the access conditions with the group administrator as a first step, but there is no guidance on good practices on how to develop it.
Our work
We are a multidisciplinary team aiming to work collaboratively with administrators of Facebook Groups to explore what such process could look like. In doing so we aim to assess how Facebook Groups centring on rural communities have the potential to enhance and/or complement existing research approaches by making research with dispersed communities more accessible and affordable, while considering challenges around confidentiality and digital inclusion given the characteristics and size of the population.
As a result, we will co-produce a protocol with guidelines for good practice engagement between researchers and administrators of social media groups that can be used as a starting point for future research that uses netnography or similar approaches.
The team will hold a participatory hybrid workshop in Birnam Arts on 27 -28 June 2023 with researchers and administrators of rural Facebook groups to discuss ethical challenges of doing research with/on Facebook groups and how to address them, and to produce the protocol draft.
If you are a researcher interested in participating in our workshop or getting involved with our work, please send your expression of interest to diana.valero@hutton.ac.uk by the 2nd of June 2023 indicating:
- Your motivation to participate in the workshop and potential impact on your career.
- If you are a member of the BA Early Career Research Network or an early career researcher.
- We are able to offer limited financial support to attend in person, please get in touch to discuss further/if this is relevant to you.
People invited to participate in the workshop will find the information for participants here and will be asked to complete this consent form in advance.
Funding, research team and key contacts
This project is funded by the Scotland Hub of the British Academy Early Career Research Network and developed by researchers from the James Hutton Institute (Dr Diana Valero, Dr Christina Noble), the University of Aberdeen (Dr Paula Duffy) and the independent scholar Dr Alison Mayne. The doctoral researcher Kirsten Gow, at The University of Aberdeen and The James Hutton Institute, is also involved in the project.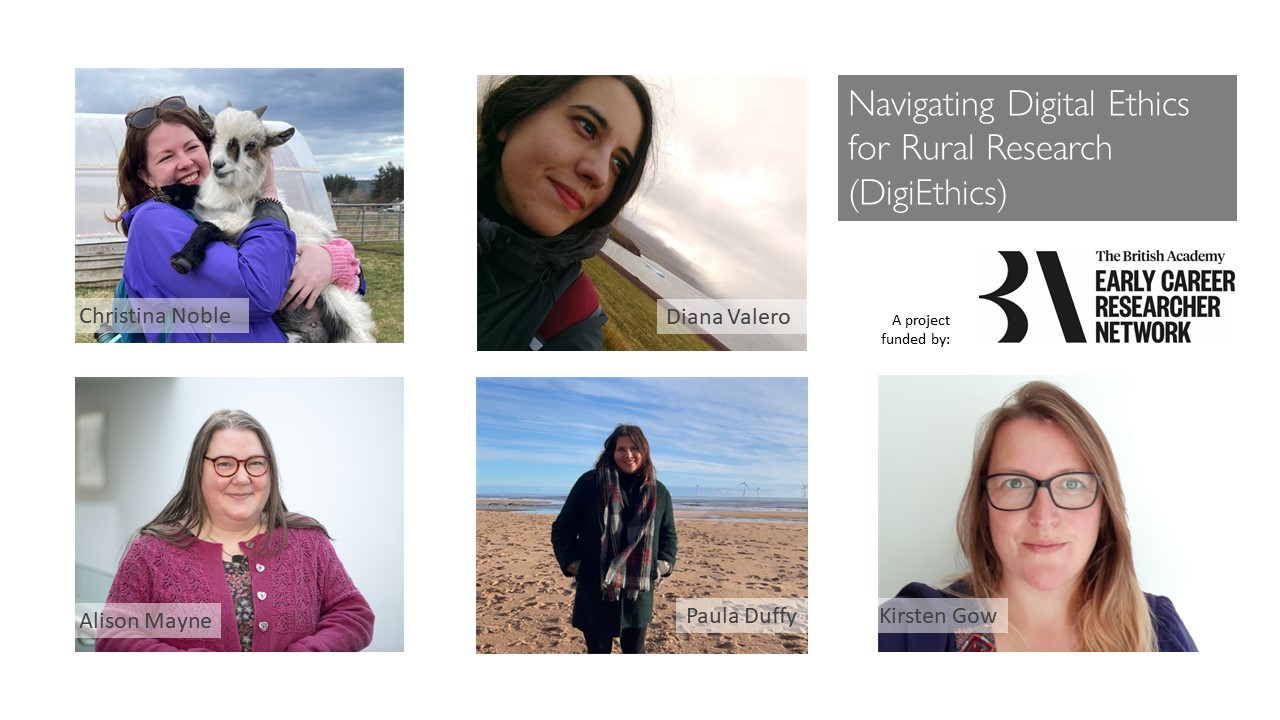 This project started in April 2023 and runs until July 2023.
For further project details, please contact Diana at diana.valero@hutton.ac.uk