Soil formation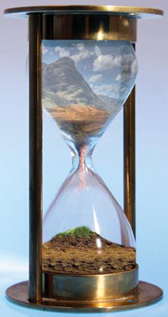 Soils are created by the weathering of rocks over hundreds to thousands of years.
The speed and nature of soil formation is affected by various factors.
The number and type of rocks that are broken down and dissolved by weather and plants, lichen and microbes.
The climate in the past including the effects of rain, temperature and wind.
The surrounding land and its slope, height and aspect.
The plants, animals and microorganisms who live in or on the soil who help dissolve rocks and recycle dead plants.
How the land is managed.
With all these ingredients it's no wonder we have so many different soils.
The minerals, organic matter and living things in soil mean that soil is a hotbed of biological and chemical reactions. These underpin life on our planet as we know it.