Gladys Wright
Science/Policy/Education: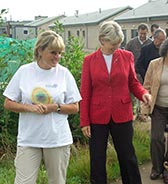 Coordinator of The Living Field educational project: preparation of materials for education and outreach; liaison with education, NGOs and public bodies; supervision of the Living Field Garden and Study Centre; responsibility for the Living Field project in the Scottish Government's Sustainble Crop Systems workpackage; grant applications to charitable bodies.
Current research interests
Based in Ecological Sciences: studies in the laboratory, glasshouse and field on resource capture and use by barley, wheat and potato; methodologies include development of nutrient-supply systems, plant growth and development, preparation for chemical analysis, data analysis.
Past research
Seedbanks in arable ecosystems: over 25 years measuring seedbanks in field experiments and surveys; collation and analysis of data; creation of a seed library and the online database ASIS.
Ecological field trials: planning, establishment and supervision of field experiments on crop-weed interactions, plant competition, phenotyping of wild plants.
Scientific posters/conferences