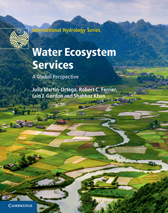 [1]Wednesday 27th May 14:45 - 18:30 (Session SS6)
Ten Years since the Millenium Ecosystem Assessments: a global perspective on water ecosystems services.
Speakers took up the challenge of reflecting on what has been achieved, what lessons have been learnt and how to improve the application of ecosystem services-based approaches for managing water ecosystem in the future. By exploring the forefront of the application of ecosystem services-based approaches at the conceptual level and through a series of cases studies from across the world, the session aimed to provide a completed, comprehensive and up to date vision of the current knowledge and challenges of applying ecosystem services-based approaches to address water challenges.
This Special Session [2] included the presentation of the book [3] Water Ecosystem Services: A Global Perspective published by Cambridge University Press and edited by Dr Julia Martin-Ortega, Prof. Robert Ferrier, Prof Iain Gordon and Prof. Shabaz Khan.
Presentations and Speakers:
Welcome by

Prof

Bob

Ferrier

, The James

Hutton

Institute
Water Ecosystem Services: A Global Perspective, by Dr Julia

Martin-Ortega

, The James

Hutton

Institute
Assessing climate change risks and prioritising adaptation options using a water ecosystem services-based approach, by Dr Samantha Capon, Griffith University
Implementation of the European Framework Directive: what does taking an ecosystem services-based approach add? by Dr

Kirsty

Blackstock

, The James

Hutton

Institute
The use of ecosystem services information to inform river basin planning, by Dr Rebecca Badger, Scottish Environmental Protection Agency
Policy support systems for the development of benefit-sharing mechanisms for water related ecosystem services, by Dr Mark Mulligan, Kings College London
Ecosystem services-based approaches to water management: what are the opportunities and challenges for business? by Dr Joel

Houdet

, African

Center

for Technical Studies
The interface between human rights and ecosystem services, by Dr Stephen Turner, Lincoln University
Roundtable facilitated by

Prof

Iain

Gordon, The James

Hutton

Institute
If you would like more information on the Special Session please contact Julia Martin-Ortega [4] or Carol Kyle [5]