Summary of Peat Deposit Depths, and Land Cover in 1988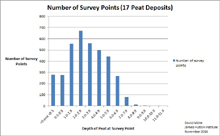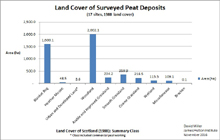 1 Land Cover of Scotland (1988), by aerial interpretation
| Number of Deposits Summarised | Number of survey points | Survey area of deposits summarised (km2)1 | Number of points (depth >0.1 m) | Maximum depth (m) | Mean depth (of points >= 0.1m; m) |
| --- | --- | --- | --- | --- | --- |
| 17 | 4,287 | 47.0 | 3,641 | 11.0 | 3.2 |

Notes:
Survey area (ha) (km2):
Area of extent of surveys (note: not the same as area > 0.5m deep as reported for individual peat deposits)
Max. depth (m):
Maximum measured depth, unless otherwise stated
Mean depth (m):
Mean depth of measured points >= 0.1m deep
Land Cover:
Land cover is from the Land Cover of Scotland (1988) , aerial photographic interpretation, by the Macaulay Land Use Research Institute. It is not the land cover at the time of the survey, nor the present day.
Collated from survey data records, by:
David Miller – formerly surveyor, Peat and Forest Soils, Macaulay Institute for Soil Research and Macaulay Land Use Research Institute, currently Knowledge Exchange Coordinator, James Hutton Institute
Allan Robertson – formerly Head of Department, Peat and Forest Soils, Macaulay Institute for Soil Research
John Bell – soil surveyor, Soil Survey of Scotland, Macaulay Institute for Soil Research, and peat surveys, Macaulay Land Use Research Institute
James Anderson - formerly of the Peat Section, Peat and Forest Soils, Macaulay Institute for Soil Research
Jane Morrice - formerly of Peat and Forest Soils, Macaulay Institute for Soil Research, and Macaulay Land Use Research Institute, formerly research scientist, James Hutton Institute