During meiosis, homologous chromosome arms can exchange via the recombination mechanism essential for gene shuffling. It starts by the formation of Double-stranded breaks (DSBs), lesions in the arms of chromosomes which initiate gene conversion and crossing. The frequency and the distribution of the DSBs throughout the genome seem to correlate with the frequency and distribution of meiotic recombination events, but DSBs formations are not random, and seem to appear at very specific region of the genome. In wheat, rye and barley, genetic recombination frequency is high near the telomeres, but rare towards the centromeres while in Arabidopsis the recombination seems to be in the region of low chromatin condensation.
Breeding programmes have the objectives to develop more productive and more stable varieties. Hybridization and selection are frequently employed in plant breeding and the success of introgression of special traits such as disease resistance relies on genetic recombination between the host and alien chromosomes. However, because chiasmata are more frequent towards the telomeres, it implies that a large area of the chromosomes rarely recombines. Therefore, a better understanding of chromosome pairing, synapsis and recombination would enable in creating tools for manipulation of meiosis to improve cereal breeding.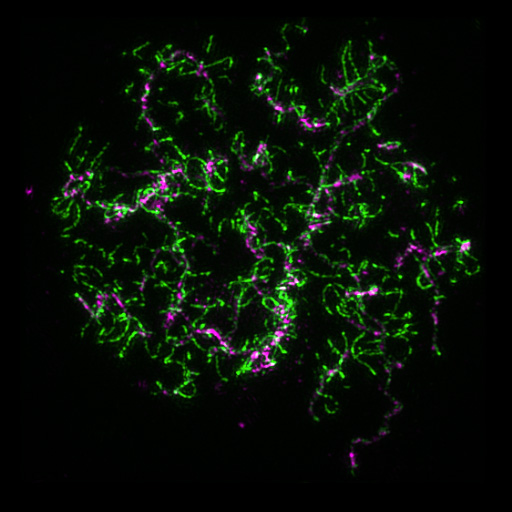 [2]I am especially interested in the cross talk between chromosome synapsis and recombination and their effect on chromatin remodelling. We are currently mapping and characterising a collection of 14 desynapctic mutants first described in early 70s (Hernandes-Soriano, 1973). We are also generating transgenics plant for specific genes of interest to elucidate the mechanism of crossing over control in barley in collaboration with various partner (MeioSys [3]) from the meiosis field and the university of Dundee (A. Barakate, C. Halpin). I am also interested how the chromatin landscape might affect recombination hotspot in barley and within its ancestors (collaboration with A. Flavell).