The James Hutton Institute is situated in the village of Invergowrie on the western outskirts of Dundee. It also has a site a few miles to the north at Balruddery Farm by Fowlis.
Dundee is Scotland's fourth largest city and has one of the largest life science and research communities outside of Cambridge and Oxford. With two universities, a teaching hospital and the Wellcome Trust Biocentre, as well as the James Hutton Institute, the city has a strong science base.
Travel
Dundee is around one hour's drive from Edinburgh, Glasgow and Aberdeen. The city is well served with regular bus routes operated by Xplore Dundee [1], and Stagecoach [2] operates routes to destinations in East Scotland. Visit Dundee Travel Information [3] for more details.
Options for travelling further afield include Megabus [4], which offers services to destinations including Edinburgh, Glasgow and London, and ScotRail [5], which offers train services to Inverness as well as to Edinburgh and Glasgow. See the National Rail website [6] for further information.
To help find your way around during the first few weeks, you can find more information on the VisitScotland website [7].
Shopping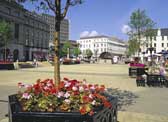 Dundee has a vibrant shopping centre with many mainstream high street retailers plus a good selection of independent traders, particularly in the west end and Broughty Ferry. There are two main shopping centres; the Overgate [8] and Wellgate [9] as well as several retail parks.
Social life
There is plenty of choice when it comes to your social life in Dundee with Dundee Contemporary Arts [10], which has gallery space, a cinema and bar/restaurant, Dundee Rep [11], regular concerts at the Caird Hall [12], an ice arena [13], cinemas and two football clubs; Dundee [14] and Dundee United [15].
A lively local music scene in pubs and clubs and a wide selection of restaurants of all types ensure there is always something to do.
Attractions
There are a wide range of attractions in Dundee including the V&A Dundee [16] museum, Discovery Point [17], home to Captain Scott's famous RRS Discovery, Verdant Works [18], a working museum charting the city's jute heritage, the Frigate Unicorn [19], Dundee Science Centre [20] and the University of Dundee Botanic Garden [21] (University of Dundee students get free entry with their matriculation card).
Things to do for free in Dundee