Scotland has water resources of generally high quality and with adequate volume to meet current demands. However, these resources are not uniformly distributed and there are significant pressures on both quantity and quality in certain regions. Land use and climate change have the potential to affect total runoff which, in turn, has implications for the water supply chain.
National scale, spatially distributed modelling is being used to assess Scotland's future water resources under contrasting scenarios of climate and considering future land use. The future land use is constructed around targets linked to the Land Use Strategy for Scotland, which highlights both the need for increased food security and also identifies forest expansion as a means to capture CO2 and to support expansion of renewable energy through biomass fuel sources.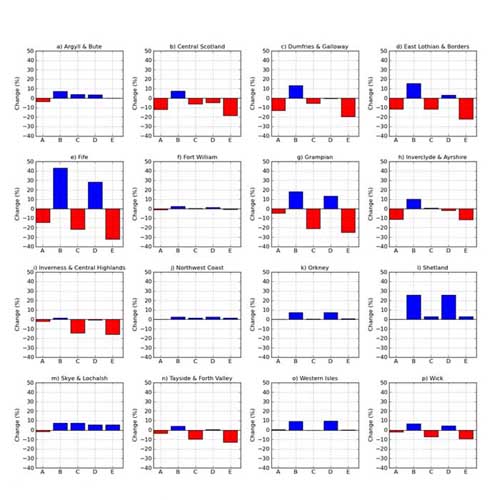 [1]
Figure 1: Annual water resources for 16 water resource megazones, expressed as a percentage change from the baseline. A, land use change only; B, climate simulation 1 only; C, climate simulation 2 only; D, land use change and climate simulation 1; E, land use change and climate simulation 2.
The models suggest that land use change is a key factor to consider in combination with climate change in planning the supply and demand of water resources. While the net, annual water balance is strongly influenced by the choice of climate simulation, the predictions for the summer months are more consistent: most areas can expect a substantial decrease in the amount of water available, in some cases by more than 50%. In certain areas this may impact on the future supply demand-balance for some crops necessitating greater use of irrigation practices.