Sequencing
Determination of nucleotide sequences remain an integral component of fundamental genetics and genomics-based research. Although Second Generation Sequencing (2GS) clearly surpasses Sanger technology in terms of output, small-scale sequencing continues to be used for routine validation of DNA cloning procedures.
Sanger sequencing
DNA sequencing using Sanger technology and also low-throughput genotyping services are run in the group at The James Hutton Institute by Clare Booth, with assistance from Louise Donnelly. The majority of fluorescent sequencing and genotyping (SSRs and AFLPs) are analysed using a capillary-based Applied Biosystems AB3730. The lab routinely processes around 120k runs per annum and provides a full template-to-sequence service to Institute users and external customers (please contact Pete Hedley or Clare Booth for further information).
Second Generation Sequencing (2GS)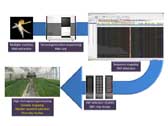 Recent advances in sequencing technology, specifically with respect to 2GS, has led to unprecedented increases in data output. At The James Hutton Institute we have recently acquired an Illumina MiSeq platform. For deeper sequencing requirements we facilitate the QC and processing of 2GS samples which are subsequently run by third party service providers. Currently we run the majority of deep Illumina-based 2GS at The Genome Analysis Centre.
The Genome Technology group has close links with Information and Computational Sciences who process 2GS data and assist in interpretation.
RNA-seq has been used to develop novel SNP and EST-SSR markers in barley and soft fruit species, enabling design of custom Illumina BeadXpress and iSelect assays. In addition, we are currently analysing shotgun genomic DNA sequencing in barley and developing Genotyping by Sequencing protocols for crop species.