HAPE The Centre
The core research group in the Centre for Human and Animal Pathogens in the Environment (HAP-E) at the James Hutton Institute studies the following pathogen-environment systems.
Faecal indicators transmission through catchments.
FIO interactions with environmental particles.
Microbial and molecular source tracking of faecal pollution of water courses.
Prevalence and survival of pathogens in waters, soils and organic materials (slurries, manures, anaerobic digestate and feedstocks, compost).
Mitigation measures against faecal point source and diffuse pollution from agriculture and human sewage.
Pathogen removal and survival during anaerobic digestion processes in the UK and Africa.
The impact of environmental changes (land use and climate change) on tick abundance and tick-borne pathogen prevalence.
Assessing potential tick and tick-borne pathogen control measures.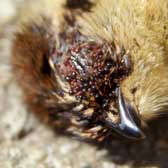 We are investigating a wide range of pathogenic species; however we have particular interests in E. coli, Mycobacterium avium paratuberculosis, Clostridium and the tick-borne pathogens Borrelia burgdorferi s.l., louping ill virus.
HAP-E acts as a hub through which we link with associate members from other research institutions and with national and international collaborators to provide a critical mass of knowledge and expertise in the field of environment-associated pathogens. Through shared research platforms, resources, approaches, and ideas, we are able to address key fundamental questions on human and animal pathogens in the environment.
Key questions
What are the mechanisms that underpin the interactions between human pathogens and plants?
What is the likelihood of transmission of human pathogens to crop plants?
What are the intrinsic biological (genotypic and phenotypic) characteristics influencing bacterial transmission in soil and aquatic systems?
What are the risks to humans and animals from bacteria entering the food chain via the environment?
What methodologies can we exploit to detect and differentiate pathogens in the environment?
How do we address the gaps in our knowledge with respect to pathogen persistence in the environment?