Our People and Structure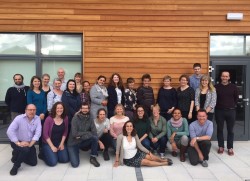 The SEGS department is organised into two groups: 'Environmental governance and land management', and 'People and places' led by Liz Dinnie. We often work together on shared research interests, e.g. on access to and consequences of greenspace, and we all aim to inform understanding of real-world problems, often working with stakeholders, to improve outcomes through inclusive, ethically responsible research.
Environmental Governance and Land Management
Our research explores the complexities – and consequences – of how different actors, policies, and institutions are intertwined in decisions that affect the natural environment and land management. We investigate and inform decision-making and processes in Scotland, the UK and beyond.
Our group comprises social scientists from a wide range of disciplinary backgrounds, including sociology, institutional, ecological and environmental economics, anthropology and geography. We accordingly draw on a variety of theoretical approaches and concepts. Examples of research topics and interests are shown in the table.
We often use qualitative approaches, working both inductively and deductively. Between us we use a range of data collection methods ranging from semi-structured interviews, focus groups or workshops, scenario-planning processes, ethnographic methods and observational data, to video and other visual methods such as digital story-telling. We also use mixed methods and quantitative methods such as surveys, choice experiments and modelling approaches. Increasingly the group explores how virtual platforms and methods e.g. Delphi, webinars, virtual reality, can complement face-to-face interactions for data collection.
Examples of topics studied by Environmental Governance & Land Management Group
Digitalisation in rural areas and of farming systems
Natural capital accounting, valuation and use in decision-making & value chains
Environmental policy coherence & integration
Social innovation in rural areas & smart villages
Partnership working at catchment & landscape scales
Environmental justice and conservation conflicts
Environmental gentrification
Food and nutrition security
Games and gamification of farming practices
Futures-oriented approaches to planning multifunctional land-use
Nature-based Solutions
Transition to green post-carbon economies & societies
Land Use, Land Use Change and Forestry (LULUCF) to mitigate climate change
Agri-tourism and other forms of rural diversification
Socio-technical risks in governance
Land rights and land access
Outdoor recreation and access to greenspace
Agricultural knowledge systems, on-farm demonstration & peer-to-peer learning
Staff involved in this work: Alba Juarez Bourke, Annie McKee, Carla Barlagne, Carol Kyle, Claire Hardy, Diana Valero, Dominic Duckett, Katrina Brown, Keith Marshall, Kerry Waylen, Kirsty Blackstock, Laure Kuhfuss, Leanne Townsend, Lee-Ann Sutherland, Maria Nijnik, Orla Shortall, Paola Ovando Pol, Rachel Creaney, Rowan Ellis, Sharon Flanigan, Stanislav Martinat
Staff involved in this work
PhD students: Elliot Hurst, Irma Arts, Kirsty Holstead, Oliver Zwirner
People and Places
Much of the research within the people and places group is focused on understanding the dynamic relationships between people and their socio-physical environments. The broad disciplinary mix and mixed-methods approach within this group are a key strength. Research within this group includes the following topics:
Demographic and socio-economic change in sparsely populated areas
Place-based policy and community resilience
Sustainability transitions (including energy infrastructure)
Everyday environmental behaviour (including energy, transport, and food)
Representing people-environment interactions in computational models
Valuation of public goods
The relationship between greenspace and wellbeing
Sustainable food systems and socio-technical change
The group comprises social scientists from a wide range of disciplines using a diverse array of methodologies to understand relationships between people and place, and how these change over time. There is a strong emphasis on qualitative methods to understand beliefs, perceptions and culture underlying people-environment relations, as well as quantitative methods to measure, for example, the ways in which people value different environments,demographic change and patterns of socio-economic development. A small but growing number of the group are increasingly using digital technologies to explore understandings of people-environment relationships, including the touch table and video recordings.
Staff involved in this work: Tony Craig, Mags Currie, Simone Piras, Kathryn Colley, Nazli Koseoglu, Jon Hopkins, Alice Hague, Ruth Wilson, Kate Irvine, Laura MacLean, Liz Dinnie, Anna Conniff, Annabel Pinker, Michaela Roberts, Christina Noble, Phoebe Somervail, Tami Stevenson, Ishaan Patil
Staff involved in this work
PhD students: Rod Lovie, Stacey Marko