Connect to eduroam from an iOS device (such as an iPhone or iPad)
To help staff and students of the James Hutton Institute connect to the eduroam wireless network, this page provides instructions for connecting to an Apple iOS device such as the iPhone or iPad.
These instructions should be followed whilst onsite at the Aberdeen or Dundee sites of the James Hutton Institute.
Visitors to the James Hutton Institute who wish to use eduroam should have already setup their device based on their home site's instructions before visiting.
From your device browse to this page, and open this eduroam profile. If you don't have a 3G/4G connection on your device, you can connect to the HUTTON-GUESTS wireless network first and you will be able to access this page without logging in.
When the profile opens, select "Install".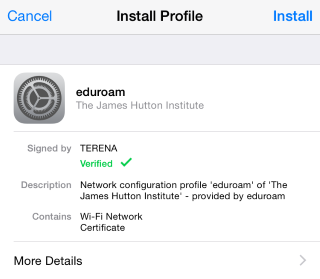 Select "Install" when asked to install the Root Certificate (and confirm by selecting "Install" again when prompted) and enter your device's passcode if prompted.
When prompted, enter your Hutton username with @hutton.ac.uk on the end. For example if your hutton username is normally aa40123 you would enter aa40123@hutton.ac.uk. Entering your email address or your username without @hutton.ac.uk will not work. Select "Next".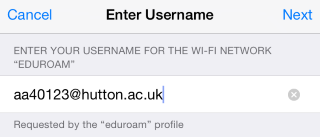 When prompted, enter your Hutton password and select "Next".
A "Profile Installed" message will appear. Select "Done".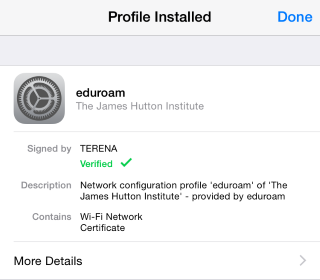 If you have entered your username or password incorrectly you will be prompted with an "Incorrect Wi-Fi Password" message. Make sure that your username is entered as described above with @hutton.ac.uk on the end, and confirm your password is correct by entering it again.