SSCR Potato Winter Meeting 11 March 2020
Important information for event attendees and external visitors

In light of the ongoing government restrictions and advice to mitigate risk of COVID-19 transmission, our events have been rescheduled or moved to online delivery.
Our sites remain on a restricted access condition, and only staff who are doing essential site-specific work or tasks are on site. All other colleagues continue to work from home for the time being.
We have excellent and free to use video conference and conference call systems and are happy to make these facilities available to help you engage with us. Meetings are taking place via video conference with participants joining individually from their own locations; check with the relevant member of staff for advice.
As the situation continues to evolve, please check the UK Government and NHS websites for the latest advice and updates. If you have any questions or concerns, please email events@hutton.ac.uk.
The Scottish Society for Crop Research (SSCR) is holding their Potato Winter Meeting at the James Hutton Institute, Invergowrie. The event is open to anyone in the potato industry and other interested parties.
CPD Points
BASIS and NRoSO points have been applied for and will be published here in due course.
Programme (Draft)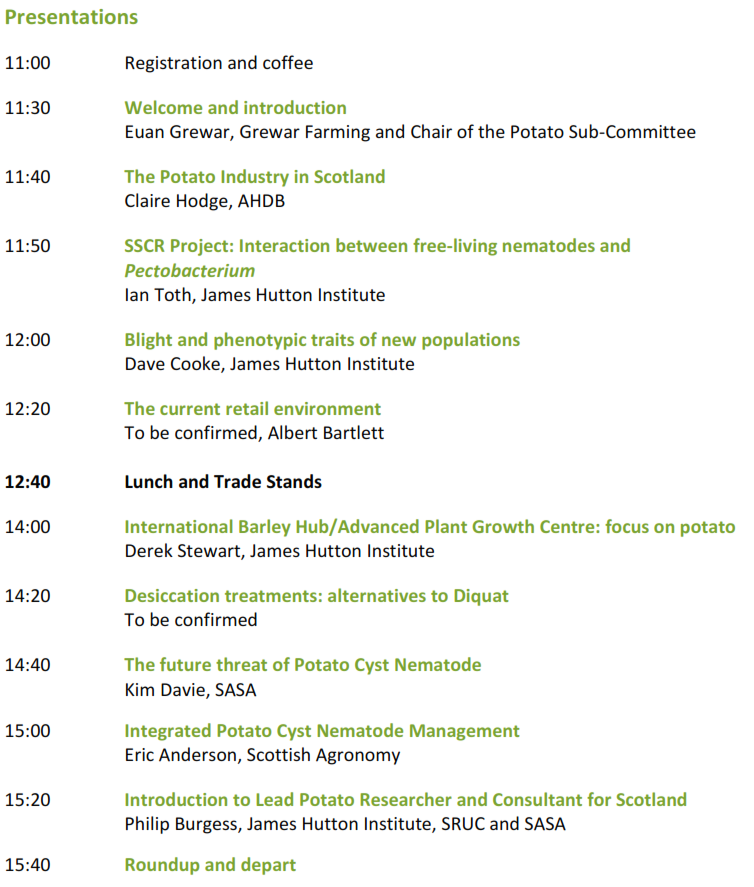 Trade Stands
There will be space for no more than five trade stands so if you are interested in a trade stand, please book as soon as possible. Spaces will be sold on a first come first serve basis and cost £300 + VAT. Please speak to Pam Cassidy on 01382 568 751 or email events@hutton.ac.uk
Attending
Spaces at this event are limited and attendees are requested to pre-register so that sufficient catering can be provided. Closing date for registering is 5 March 2020.
Please note that this meeting is free for SSCR members but there is a £15 attendance fee for non-members. Membership of SSCR costs £15 a year which allows you to attend all the crop winter meetings free of charge and there will be the opportunity to join at the meeting.
For more information and to register for the meeting, please contact:
Emily Beats
Communications Officer
The James Hutton Institute
Dundee DD2 5DA
Tel: 0344 928 5428
Email: events@hutton.ac.uk
Downloads