SSCR Potato Winter Meeting 11 March 2020
The Scottish Society for Crop Research (SSCR) is holding their Potato Winter Meeting at the James Hutton Institute, Invergowrie. The event is open to anyone in the potato industry and other interested parties.
CPD Points
BASIS and NRoSO points have been applied for and will be published here in due course.
Programme (Draft)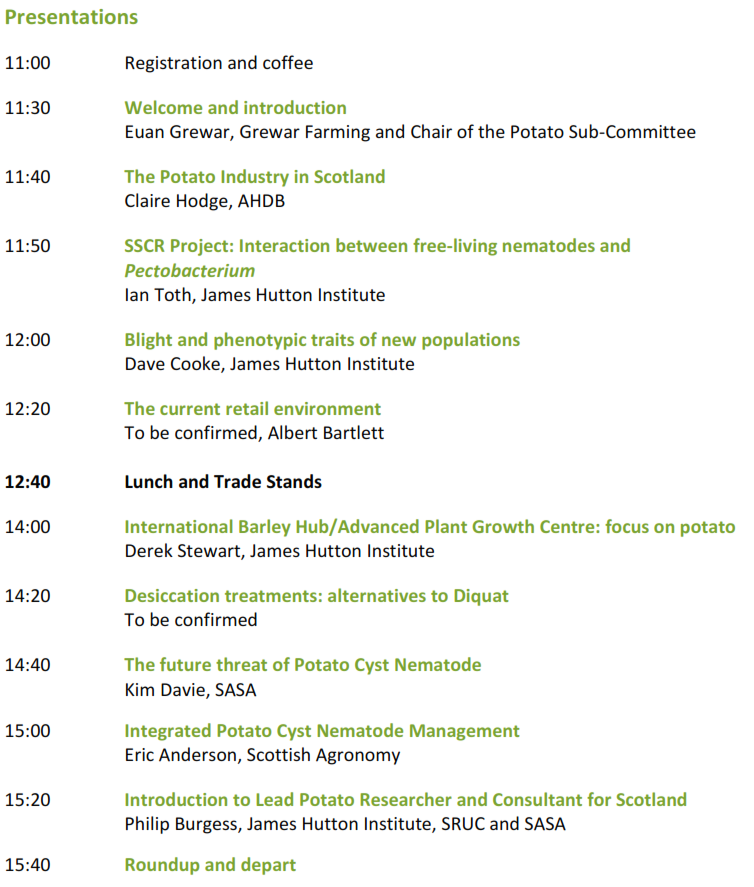 Trade Stands
There will be space for no more than five trade stands so if you are interested in a trade stand, please book as soon as possible. Spaces will be sold on a first come first serve basis and cost £300 + VAT. Please speak to Pam Cassidy on 01382 568 751 or email events@hutton.ac.uk
Attending
Spaces at this event are limited and attendees are requested to pre-register so that sufficient catering can be provided. Closing date for registering is 5 March 2020.
Please note that this meeting is free for SSCR members but there is a £15 attendance fee for non-members. Membership of SSCR costs £15 a year which allows you to attend all the crop winter meetings free of charge and there will be the opportunity to join at the meeting.
For more information and to register for the meeting, please contact:
Emily Beats
Communications Officer
The James Hutton Institute
Dundee DD2 5DA
Tel: 0344 928 5428
Email: events@hutton.ac.uk
Downloads