Climate Change Installation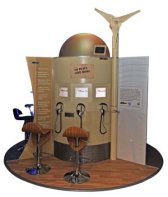 Our exciting interactive exhibit (installation) is centred around the challenge of climate change but specifically addressing the idea that we have choices in the ways that we individually and collectively respond to this challenge.
The key message is that these choices will result in very different outcomes. To illustrate this we use the device of "video diaries" but based on the diaries of members of a farming family in the future Scotland of 2050. The diaries are collectively entitled: "Choosing our Tomorrows".
The installation allows members of the public to view the diaries, interact with the information they provide and consider their own behaviours in relation to climate change.
The three video diaries are:
Business as Usual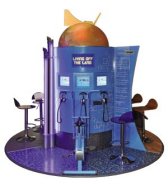 The year is 2050: In Scotland, summers are much warmer and are very dry. Winters are extremely wet. Violent storms are common. Many low lying areas are permanently flooded. What are the views of three members of the same farming family of a future where society is still very dependent on fossil fuels and little action has been taken to combat climate change…?
Living off the Land
The year is 2050: Most people live in towns and cities powered by the resource from an industrialised countryside. What are the views of three members of the same farming family where as a response to climate change there has been heavy investment in GM, agricultural engineering, nuclear power and bio-fuels…?
No Place Like Home
The year is 2050: By acting early, the worldwide effects of climate change have been minimised. What are the views of three members of the same farming family in a society where high fuel and transport costs have favoured a move towards locally produced food, but also constrained personal travel…?
Game, Quiz and Questionnaire
In addition to video diaries, the exhibit includes a quiz on the film resource and a 'climate choices' game. There is also a public survey element which asks people about their attitudes towards changing their everyday behaviours. This is being used as part of our research programme on behavioural change.
Events
Glasgow Science Centre
The Climate Change Installation will be hosted by Glasgow Science Centre from 5 April 2011.
Technical Details