Mixed Agriculture
Land capable of supporting Mixed Agriculture (Class 3.2 to Class 4.2)
Distribution of land capable of supporting mixed agriculture in Scotland which covers 1,541,100 hectares or 20 per cent of Scotland's land area.
Land in these classes is capable of being used to grow a moderate range of crops including cereals (primarily barley), forage crops and grass. Grass becomes predominant in the rotation in Class 4.2 whilst other more demanding crops such as potatoes can be grown in Class 3.2. The climate is less favourable than on prime land, slopes up to 15 degrees are included and many soils exhibit drainage limitations.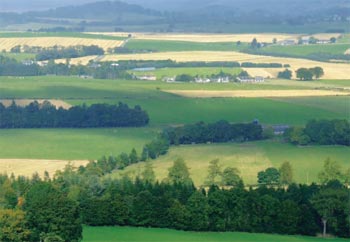 Class 3.2 land with mixed farming comprising improved grassland and cereals.