LCS88 Dataset

The LCS dataset was completed after three distinct work phases:
Creation of hierarchical land cover classification
Interpretation of air photographs with both single feature and mosaic unit
Creation of a digital dataset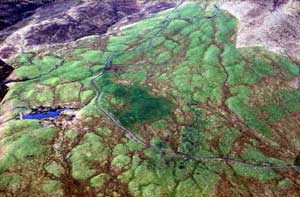 Example of base map with superimposed land cover information; area shown is to the west of Aberdeen.
Data from the interpreted air photograph has been transferred to a 1:25 000 Pathfinder OS map. Examples of codes include 100: arable land; 70: coniferous woodland; 90: improved pasture; 77: linear line of trees; 20: built up area.
Besides single features (127) there were over 1300 mosaics identified where the pattern of cover types was so complex that individual types could not, at the selected interpretation scale, be separated. The example shown is of improved pasture and wetland.
Improved pasture with peatland channels mosaic of 90/182, recently ploughed land for forestry (83) in top right corner, loch represents water body (18).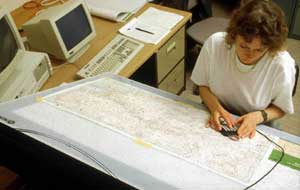 The interpreted data is systematically digitised for input to a Geographical Information System (GIS). Digitising land cover data from 1:25000 scale OS map. You can download the data as a zipped shapefile by clicking here.
You can download copies of the following documents using the links below: