Peat Surveys: Threepwood Moss
Peat Deposit: Threepwood Moss, Roxburghshire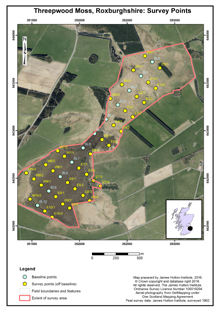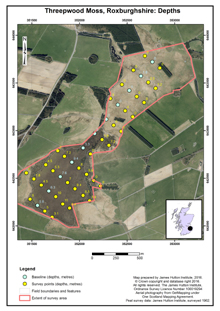 | Identifier | Name | Survey Year | Total Area (>0.5m depth) | Total Volume (m3) | Max. Depth (m) | Mean Depth (m) |
| --- | --- | --- | --- | --- | --- | --- |
| 59 | Threepwood Moss | 1961 | 107 | Volume not calculated | 11.0 | N/A |
Footnotes:
Interpolated values from field observations
All peat area surveyed, not only that greater than 0.5m
Notes:
Identifier:
1 to 70: Scottish Peat Committee Moss Survey report number
71 to 122: Macaulay Institute for Soil Research survey number
Name:
Name of peat deposit or bog
Survey year:
Year of survey published, if known. U/K not recorded on map.
Total Area (ha) (>0.5 m depth):
Area to nearest ha, of peat greater than 0.5 m. For full topographic surveys, the area can be calculated
Total Volume (m3):
Volume of peat for areas greater than 0.5m deep. For full topographic surveys, the volume can be calculated
Max. Depth (m):
Maximum measured depth, unless otherwise stated
Mean depth (m):
Mean depth of areas greater than 0.5 m deep.
Collated from survey data records, by:
David Miller – formerly surveyor, Peat and Forest Soils, Macaulay Institute for Soil Research and Macaulay Land Use Research Institute, currently Knowledge Exchange Coordinator, James Hutton Institute
Allan Robertson – formerly Head of Department, Peat and Forest Soils, Macaulay Institute for Soil Research
John Bell – soil surveyor, Soil Survey of Scotland, Macaulay Institute for Soil Research, and peat surveys, Macaulay Land Use Research Institute
James Anderson - formerly of the Peat Section, Peat and Forest Soils, Macaulay Institute for Soil Research
Jane Morrice - formerly of Peat and Forest Soils, Macaulay Institute for Soil Research, and Macaulay Land Use Research Institute, formerly research scientist, James Hutton Institute