Aberdeenshire has the Best Soil in Show 2019
Richard Gospel, of Hassiewells Farm near Rothienorman, has been announced as the winner of Best Soil in Show at the Royal Highland Show 2019, with Alistair Brunton, of Balmonth Farm by Carnbee in Fife, scooping the Young Farmers prize for a second time.
Hassiewells is a mixed organic farm growing grass feed, and its soil was described by Best Soil in Show judges as having an excellent structure in large part due to its organic matter content, thus making it resistant to erosion and degradation, key attributes with current pressures on soils, and ensuring adequate drainage.
Dr Jason Owen, chair of the judging panel, said: "Soil health is paramount to ensuring sustainable agriculture within Scotland and globally. It is heartening that the agricultural community within Scotland recognises their soil resource and the importance of good management practices."
Mr Gospel commented: "I am pleased to have won Best Soil in Show. I have been working hard to improve soil structure and organic matter, and also to correct the balance in the soil analysis. This award goes to show that I'm doing some of it right!"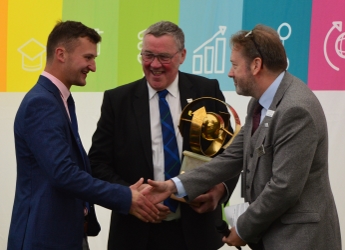 Young Farmers category winner Alistair Brunton said: "By running a mixed unit we can more easily maintain soil fertility and organic matter, this is something that my grandfather and father have worked hard to do since they arrived at Balmonth in 1957. In recent years we have worked with Scottish Agronomy and Soil Essentials to further improve our nutrient status. With more chemicals becoming unavailable, I feel that soil health is now more important than ever. I am delighted to win this award again and encourage all young farmers to enter in the future."
NFU Scotland President, Andrew McCornick, who farms near Dumfries and presented both awards, said: "With soil health a top priority for any productive farming system, I am delighted for the winners and congratulate all those that entered this important competition.
"When farm margins are tight, investment that protects or enhances the structure and health of soils can often be neglected. However, if we are to make the most of other inputs like fertiliser and grass seed, the reality is that we can't afford not to do it if we are to get the best out of our soil and the farm. These winners are a great example of what can be achieved."
Commending the winners, Professor Colin Campbell, Chief Executive of the James Hutton Institute, added: "Best Soil in Show highlights the importance of soil health not just for productivity but also for a wide range of benefits to our environment, including climate change mitigation and adaptation.
"The soils submitted to the competition show that many farmers are aware of its importance and a need to invest in this natural capital. We will continue to raise awareness through the Scottish Soils Database and website, and with our free soil apps that help all farmers to easily find their soil type and compare their data with other soils in the Scottish National Soils Database."
It is the sixth year the James Hutton Institute has run the Best Soil in Show competition, with support from NFUS and the Scottish Association of Young Farmers Clubs. Samples from across Scotland were judged on compositional, structural and chemical criteria, in a drive to highlight the importance of maintaining healthy soils and the role played by land managers.
Lynbreck Croft presented with NEWBIE award to New Entrant Farm Business of the Year
Lynbreck Croft, a 150-acre mixed habitat croft enterprise located in the Cairngorms National Park, was presented with the inaugural NEWBIE UK award for New Entrant Farm Business of the Year, in the context of EU-funded research aiming to help new farmers, crofters and small-holders network and develop successful businesses.
The award was judged by National Farmers Union representatives from England, Scotland, Northern Ireland and Wales.
Lynbreck Croft managers Lynn Cassells and Sandra Baer received a cash prize towards the cost of training, as well as an award plaque, farm video, along with an opportunity to participate in a European new entrant conference with other award winners.
Press and media enquiries:
// php print $submitted; ?> June 21, 2019