Fancy being a barley farmer? Pick up your smartphone
Do you have what it takes to run a barley farm? Can you make the right decisions? No need to buy land or change careers – just pick up your smartphone and have a go.
This Sunday is Open Farm Sunday and the James Hutton Institute will unveil an Android based game developed by Abertay University students: Barley and Me. Fancy giving it a go? Join us at Invergowrie, on the outskirts of Dundee, from 10 am to 4 pm.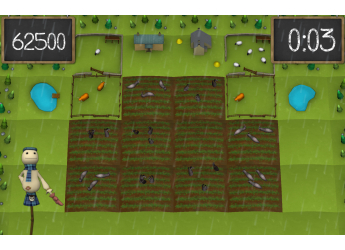 Barley and Me is a decision-based game where the goal is to produce the most barley. Players choose a number of inputs with varying complexity, flipping tiles to see barley growth. Players can answer trivia questions for bonus points. The more barley you grow, the more you can upgrade and customise your farm. But beware you don't damage the environment in the process - the land around you farm can deteriorate if you don't pay careful attention.
Dr Kenneth Loades, research leader at the James Hutton Institute, said: "The game highlights the impacts of farm management on profit, production and the environment. Player choices are combined with 10 years of historical weather data from the James Hutton Institute site in Dundee with results highlighting the good and the bad.
"A successful year means they can improve the farm, harm the environment though and things will start going downhill. The results are not just made up – they've been calculated using the decision support tool for agriculture, which is used by educators, researchers, policy and decision makers in over 100 countries for simulating the growth of over 28 crops."
Barley and Me was developed by students on Abertay University's Professional Masters in Games Development, a 12-month course focused on training the next generation of game developers through projects with real-world clients.
Two teams worked with a brief from the James Hutton Institute for three months, before pitching their games to the scientific experts. Barley and Me was selected as the most promising project, with the two teams then working together for a further month to complete the game and respond to client feedback.
Brett Murray, producer of Barley and Me, said: "I think video games are a perfect platform for teaching people of all ages about science. Much like science, games are played by making decisions within a set of rules – a player cannot make progress without having a good understanding of the rules.
"The team has created something that we are proud to release to a wider audience, and eagerly await the crowd reaction at the upcoming events."
Besides the game, the institute will offer a range of free activities to connect people to the farms where their food comes from: take a tractor trailer tour, meet the lambs, learn about the importance of soil and see how farming and the environment can work better together. Many exhibits will be under cover so don't worry if it's a wet day.
Open Farm Sunday is an initiative organised since 2006 by Linking Environment and Farming (LEAF); the James Hutton Institute is a LEAF Innovation Centre.
Notes to editors:
Abertay University game development personnel: Barley and Me was developed by Katie May, Tor O'Bergin, David Dow, Kevin Pender (art); Alex Murphy, Cameron Barber, Stefan Pientka (code); Artems 'Skelius' Bockarjovs (audio). The game was produced by Brett Murray.
Press and media enquiries:
// php print $submitted; ?> June 5, 2015