Forensic soil science and soft fruit research showcased on national TV
Our research continues to attract the interest of the media, as scientists from the James Hutton Institute have participated in TV programmes broadcast by BBC Four and Channel 4 to discuss soil forensics and the health benefits of soft fruit.
The second episode of BBC Four series Catching History's Criminals: The Forensics Story, featuring Head of Soil Forensics Professor Lorna Dawson and Knowledge Exchange coordinator Professor David Miller, was broadcast on Thursday 25 June. In it, Professor Dawson was able to trace a muddy boot to a specific location in Glasgow using forensic soil science at our laboratories in Aberdeen.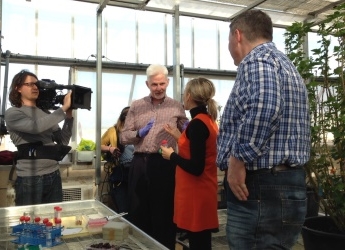 Similarly, Enhancing Crop Productivity and Utilisation theme leader Professor Derek Stewart and senior scientist Dr Gordon McDougall were interviewed by presenter Kate Quilton for Channel 4's series Superfoods: The Real Story to discuss the levels of antioxidants present in blueberries, strawberries, raspberries and blackcurrants during a visit to our site in Dundee.
The programmes are available to watch on demand for a limited time on BBC iPlayer and on Channel 4's website (registration necessary). The soil search section appears at 11 minutes 43 seconds into the BBC Four programme, and the segment of the Channel 4 programme that looks into berries can be watched from 9 minutes 6 seconds in.
Press and media enquiries:
// php print $submitted; ?> July 7, 2015