James Hutton Institute soil research featured in The Geographer magazine
Reflections of James Hutton Institute scientists on the concept of soil, tools for digital soil monitoring and the implications of soil for policymaking, forensic science, engineering, health and nutrition, have been featured in the latest issue (Summer 2015) of The Geographer magazine, published quarterly by the Royal Scottish Geographical Society.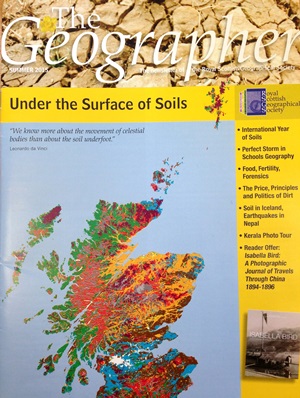 Headlined Under the Surface of Soils and compiled with help from Dr Blair McKenzie of our Environmental and Biochemical Sciences group, the issue includes pieces by fellow James Hutton Institute researchers Dr Katrin Prager, Dr Rupert Hough, Dr Matt Aitkenhead, Professor Lorna Dawson, Dr Glyn Bengough, Professor Philip J. White and soil scientist Willie Towers, joined by colleagues from leading institutions in the UK, Europe, North America, Asia and Australia.
Professor Roger Crofts, Chairman of the RSGS, said: "In this edition of The Geographer, experts from around the world highlight some of the key issues that affect us all, and hopefully improve readers' understanding of how we are to maintain this natural capital and ensure that it is cared for, as well as used productively."
Previous issues of the magazine can be accessed at the RSGS website and the Summer 2015 issue will be available to read online three months after publication.
Press and media enquiries:
// php print $submitted; ?> August 7, 2015