Saudi academics visit to share ideas about crop, soil and land use research
A group of academics from a leading Saudi Arabian university visited the James Hutton Institute in Dundee and Aberdeen to share ideas about crop, soil and land use research and specialist facilities. The visitors, from Qassim University, had particular interest in discussing the possibility of establishing joint research projects, Ph.D. studies and student exchanges.
The delegation included the dean of Qassim University, Dr Khaled B Alharbi, as well as the vice dean for Quality Assurance and Development, Dr Abdullah Alsuhaim; the heads of Animal Production and Food Science, Dr Ibraheem Alhumaidan and Dr Hamad Aljubaili; the director of the University's Agricultural Research Station, Dr Mohammad Alwabel, and Project and Maintenance manager, Omar Alruqaibah.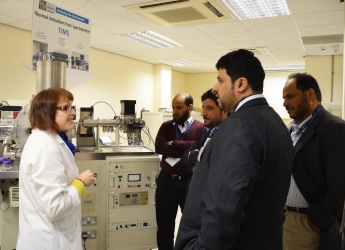 They were hosted in Dundee by professors Derek Stewart and Ian Toth, with the assistance of other colleagues. In Aberdeen they were greeted by Professor David Miller and soil research/land use colleagues.
Qassim University was established in 2004 by merging two sites of the Imam Mohammad Ibn Saud Islamic University and King Saud University. Since its establishment, it has experienced a remarkable growth in enrollment and a significant expansion of faculty and administrative staff. Its number of registered students is over 70,000, adding to a number of faculty members and staff of approximately 5,000. At present, the university encompasses 28 colleges.
Press and media enquiries:
// php print $submitted; ?> January 25, 2016