Water ecosystems reference book now available from UNESCO
The potential of ecosystem services-based approaches for sustainable water resource management has been highlighted in a book co-edited by researchers from the University of Leeds, the James Hutton Institute, the James Cook University and UNESCO. Published by Cambridge University Press in 2015, the book has now been made freely available by UNESCO.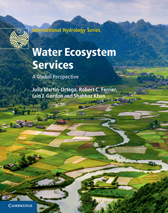 The publication, titled "Water Ecosystem Services: A Global Perspective", describes how ecosystem services-based approaches can assist in addressing major global and regional water challenges, such as climate change, biodiversity loss, and water security in the developing world, by integrating scientific knowledge from different disciplines, such as hydrological modelling, environmental economics, psychology and international law.
In the book, empirical assessments at the national, catchment and regional levels are used to critically appraise ecosystems services-based approaches, and its merits and potential limitations are also presented. The practicalities of this approach with regard to water resources management, nature conservation, and sustainable business practices are discussed, and the role of society in underpinning the concept of ecosystem services is explored.
By presenting new insights and perspectives on how to shape future strategies, the book is meant to be a reference for researchers, academics, students and policymakers, in environmental studies, hydrology, water resource management, ecology, environmental law, policy and economics, and conservation biology.
Lead editor Dr Julia Martin-Ortega, now Associate Professor of Ecological Economics at the University of Leeds, commented at the time of publication:
"The idea of this book emerged from the recognition that, ten years after the popularisation of the concept of ecosystem services following the release of the Millennium Ecosystem Assessment, it was necessary to take a step back into what it has brought to academia and water management practice, and a look forward as to where it might take us into the future."
The book is available for download from the UNESCO website.
Press and media enquiries:
// php print $submitted; ?> May 18, 2016