Characterisation of potato miRNAs
Characterisation of potato miRNAs and investigation of their role in potato tuber formation
A new, recently discovered, layer of gene regulation involves small RNAs as regulatory molecules for post-transcriptional gene regulation. This mechanism is widespread in animals and plants and the discovery of small RNAs has changed our basic knowledge about the regulation of genes. These RNAs play important roles in development and gene regulation upon biotic and abiotic stresses.
From the diverse classes of small RNAs we focus on a specific group called micro RNAs (miRNAs). These short (~21 nucleotides), non-coding, single stranded RNAs have essential functions in all eukaryotes. They are formed from a longer, precursor-RNA molecule (Figure 1) through a well-defined process including different enzymes (DICER-LIKE, HASTY, HEN1 and Argonaute proteins, etc.) [1].

Figure 1: Potato specific precursor miRNA sequence and its structure.
miRNAs can suppress gene activity at the post-transcriptional level. miRNAs can incorporate into the effector complex (RNA Induced Silencing Complex, RISC), find their target RNAs which are usually longer molecules (like messenger RNAs, mRNAs) and hinder their activity through RNA cleavage or translational inhibition. Through these actions miRNAs can fine tune protein levels in cells.
Potato is a major global food crop, and is cultivated for its underground storage stems (tubers), rich in starch and nutrients. Potato is unique among the major crops in tuber formation. It is extremely important to understand the as yet poorly known molecular events playing roles in development or responses upon biotic or abiotic stresses, ultimately impacting on breeding of cultivars with improved tuber characteristics (tuber initiation, yield, size distribution, shape etc.). The genome sequence of potato was described in 2011 which greatly helped to further develop molecular and genetics studies in this crop [2]. Because of the lack of genome sequence miRNAs in this crop were poorly known before.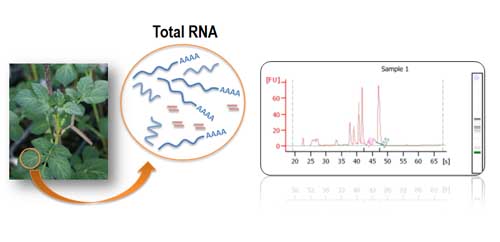 Figure 2: RNA extraction and analysis for high-throughput sequencing from leaf tissue.
Using high-throughput sequencing we have identified and characterised miRNAs from potato. Different tissues like leaf and stolon were used to explore the miRNA transcriptome (Figures 2 and 3) [3]. We have developed a pipeline for the analysis of miRNAs. Conserved and potato specific miRNAs were identified and non-conserved miRNAs were validated experimentally.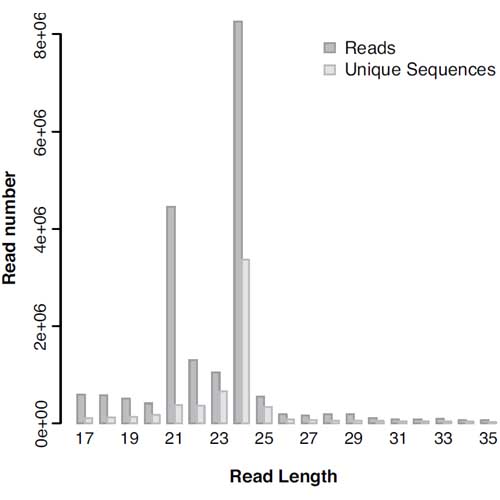 Figure 3: Small RNA read distribution in potato.
Additionally, we predicted targets (mRNAs) for all of the miRNAs. This is an exploratory study to find as many miRNAs as we could in potato. We can now build on this knowledge to find out the role of miRNAs in tuber development and also investigate their roles upon biotic or abiotic stresses in potato.
We were awarded a grant by the Biotechnology and Biological Sciences Research Council (BBSRC), responsive mode, BB/J017213/1) to investigate the role of miRNAs in potato tuber formation. This is a collaborative project with Professor Tamas Dalmay at University of East Anglia, Norwich, UK to pull together our knowledge on potato and RNAs with small RNA biology. The aims of this project are:
identification more miRNAs from potato
characterisation of potato and tuberisation specific miRNAs
identification of target genes for potato miRNAs
investigation of the role of candidate miRNAs and their targets in tuberisation.
We will use day length responsive primitive potato cultivar (Solanum tuberosum group Andigena) for our studies in a time course experiment to identify miRNAs affecting tuberisation (Figure 4). This study will add new information to the increasing knowledge about how tuber is formed in potato and how we can influence this process to have modern, more productive cultivars for the agriculture.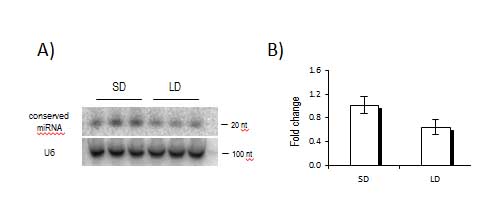 Figure 4: Conserved miRNA showing differential expression under short (SD) and long day (LD) conditions. (A-Northern blot, B-quantitative RT-PCR).
Contact: Csaba Hornyik or Glenn Bryan
References
1. Schwach, F., Moxon, S., Moulton, V., Dalmay, T. 2009. Deciphering the diversity of small RNAs in plants: the long and short of it. Briefings in Functional Genomics Nov 8(6):472-81. (doi:10.1093/bfgp/elp024)
2. Potato Genome Sequencing Consortium. 2011. Genome sequence and analysis of the tuber crop potato. Nature 475(7355), 189-95. (doi:10.1038/nature10158)
3. Zhang, R., Marshall, D., Bryan, G.J., Hornyik, C. 2013. Identification and Characterization of miRNA Transcriptome in Potato by High-Throughput Sequencing. PLoS ONE 8(2): e57233. (doi:10.1371/journal.pone.0057233)