Raspberry fruit quality
Identification of markers for quality traits in red raspberry
There remains an un-met demand for UK grown soft fruit and great scope for increasing the number of consumers who purchase soft fruit in season (current estimates suggest 36% for raspberry (Kantar data 2012). Any increase in fruit consumption will be of benefit to growers, processors and the public.
The fruit industry relies on a very small number of varieties, and a decreasing number of chemicals for pest and disease control (EC No 1107/2009). This presents serious challenges for the future, particularly with EU exit and access to residue data for future registration. Few suitable high quality varieties with innate resistance to major pests and diseases are available to growers. It is likely that within 10-15 years the UK industry will have to survive in an environment with very few conventional pesticides and fungicides, which in the absence of high-quality, resistant varieties, will be difficult.
Currently the majority of fruit, other than soft fruits, consumed in the UK is imported (90%), and the fruit category as a whole has one of the largest trade deficits of any imported commodity (Food Security 2008). Soft fruit can therefore provide a secure, sustainable and healthy horticultural industry for the UK. Soft fruit accounts for just under 30% of total fruit market share. A four-fold growth in berries and currants occurred in the last seven years reaching a value of £1.7 bn in 2021. The raspberry market saw the largest increase growing exponentially to a value around £350 million. In part due to these increases, currently supply of UK raspberries largely meets fresh demand in season.
Availability of soft fruit is essential for health and increasing consumption is a goal for Scottish and UK Governments (Recipe for Success - Scotland's National Food and Drink Policy, 2009; Together for Health: A Strategic Approach for the EU 2008-2013). Epidemiological studies have consistently shown a correlation between high dietary fruit and vegetable intake and a reduced incidence of some cancers and cardiovascular diseases. Whether this is a direct result of the fruit and vegetables or that these replace less healthy food options remains unclear, though evidence is growing to support specific health benefits associated with fruit and vegetable consumption. Food related ill health currently costs the NHS in excess of £7 billion per annum (DEFRA), highlighting the continued need to assist consumers to eat responsibly.
Fresh fruit consumption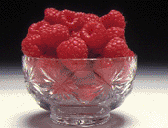 Growers need to produce fruit of premium sensory quality and enhanced shelf life primarily for fresh consumption across a wide season.
Soft fruit production for fresh consumption has been revitalised by new cultivation strategies including new raspberry varieties grown under protected cultivation. Currently estimated at a retail value of £350 million, growers recorded market growth of 136% over the past ten years. Predictions are for increases of 100%-200%, given availability of high quality varieties that meet market requirements across the season. Premium quality fruit from cultivars across the summer season is not possible through limitations in sensory characters and shelf life parameters. UK grower needs are ability to produce raspberries of premium quality, specifically under cover, from early to late in the season. Currently only three to four weeks of high quality UK raspberries are available, demand over the rest of the 'traditional fruit season' is met through imported fruit.
Currently consumers can be disappointed by high cost, poor flavour, limited shelf-life, short availability and quality compromise that discourage repeat purchases. Growers expend capital and effort in establishing specialised raspberry cultivation and need to achieve profitability by sale of fruit perceived of premium quality and readily available for harvest from robust plants. Traits of fundamental interest across the season to supply chain stakeholders are considered to be: sweetness and flavour intensity, berry conformation (drupelet structure and cohesion), colouration and firmness across the season.
What are required are the application of non-controversial state-of-the-art molecular technologies of proven success in other crops (for example, tomato and peach) that can ensure new varieties have specific sensory characters and quality parameters. In the raspberry this is now possible through the Institute genetic map enabling studies on the inheritance of important traits to be carried out and will allow knowledge and technology transfer from other major Rosaceous crops.
A genetic linkage map is a representation of a plant's chromosomes with signposts placed along the chromosome in the form of molecular markers, to which phenotypic traits can be associated. Such maps can facilitate the development of diagnostic markers for polygenic traits and the identification of genes controlling complex phenotypes. The map provides a means for locating and hence manipulating quantitative traits in breeding programmes. This linking phenotype to genotype, will greatly contribute to our understanding of the genetic control of commercially important traits and therefore our ability to combine desirable traits in the same cultivar. The establishment of gene-phenotype relationships will allow gene-based selection in breeding and the functional assignment of genes for traits such as disease resistance and fruit quality.
The James Hutton Institute in collaboration with food scientists at Strathclyde University have studied fruit quality from the Institute raspberry mapping population over a number of years and sites, collecting information on the biochemical basis of taste, aroma and appearance. The mapping population, a cross between the American cv. Latham (sweet, aromatic, late-cropping, small and firm berries, glossy and of mid- to dark red colour) with the Scottish cv. Glen Moy (slightly sweet, early, large conical fleshy, dull pale-mid red fruit of aromatic character) segregate for all key traits of interest.
An understanding of how biochemical, sensory and genetic data relate to each other in terms of quality parameters will be determined and definitions of quality redefined.
OTLs underlying quality parameters have been identified for traits such as anthocyanin content, colour, volatiles, sensory perceptions and sugar and acids on the raspberry genetic linkage map and in conjunction with other data from candidate gene map locations, BAC library screening and sequencing and comparative mapping with another Rosaceous species, markers or in-fact the genes themselves have been identified and favourable alleles are being sought in a range of germplasm. Initially size markers will be transferred into the UK raspberry breeding programme managed by James Hutton Limited.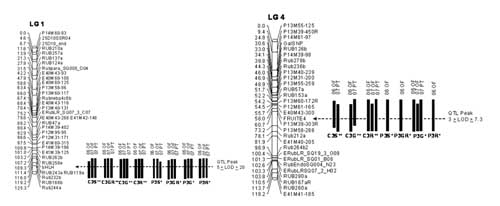 Figure 1: QTL for anthocyanin production
This work is funded through HortLink HL0170 with a range of industry partners.
Partners HDC, M&S plc, KG Fruits, MRS, T.Thomson Ltd Blairgowrie, ReDeva.