Agroecology
Latest .... major success so far in EU H2020 bids .... TRUE, DIVERSIFY and TOMRES .... details to follow .... Newton projects begin March 2017 .... success for doctoral students ...
Aims and activities
The Agroecology Group aims to provide a rigorous scientific basis for sustainable croplands. We examine how plants, animals and microbes may interact to form a dynamic ecosystem supporting long-term economic offtake. Our home base is the maritime croplands of the north-east Atlantic, from where we collaborate in a range of climatic and ecological zones across Europe and beyond. Integral to our enterprise is a comprehensive and unique knowledge-exchange chain comprising the Institute's farms, LEAF (Linking Environment and Farming), regional farm networks and the Living Field. We are active in global debates on food security, biodiversity and the sustainable use of resources. Geoff Squire hands over group leader duties to Graham Begg from January 2017. Contact for Agroecology web pages: Graham Begg.
Research and applications Our research crosses scales from the individual to the landscape. Individuals are examined through the functional traits and properties that link them to each other and to their surrounds. Groups of individuals form populations that exchange genes and mediate the movement and transformation of energy and matter, in which

feedbacks

occur between all scales. See our pages on

IPM-Weeds

.
Atlantic Maritime Croplands - a study in sustainability and environment Following cumulative efforts over many years, we have now established the coastal croplands as a major regional case study. We work with farmers and farming interests throughout the region and welcome approaches for collaborative research.
Staff, capability, infrastructure We are mainly biologists, quantitative ecologists and mathematical modellers, whose scales of interest range from landscape to community and organism. The team has built a strong, local yet dispersed, and in many ways unique research infrastructure that is valued throughout the institute and by external collaborators.
Students and teaching The group supervises university-registered students at doctorate, masters and undergraduate levels and hosts a range of internships and overseas visitors. Group members hold university teaching positions and give lectures for a range of courses and public events.
Funding is presently from three main sources - the Scottish Government, the

EU

(

NASSTEC

,

AMIGA

, PURE, Legume Futures, TRUE, TOMRES, DIVERSIFY, etc.) and a range of commercial and policy partnerships (LINK, Innovate UK); our base is strategic research in ecosystem services,

biodiversity

, ecosystem function and complex systems.
Publications Members' work is published through peer-reviewed journals (for example, Proceedings of the Royal Society B: Biological Sciences, Journal of Experimental Botany, Journal of Animal Ecology, Journal of Applied Ecology, Nature, Annals of Botany,

Ecography

,

Transgenic

Research, Ecological Modelling, Agriculture Ecosystems and Environment), through reports to government (UK,

EU

), and through industry and trade outlets.
Outreach
Research is closely tied to outreach and knowledge-exchange through the following channels:
LEAF (Linking Environment and Farming) Innovation Centre at the James

Hutton

Institute,

co-ordinated

by the

Agroecology

group in close partnership with the Farm
The Living Field project on education, outreach and public understanding (managed by

Agroecology

and the Soil-plant group)
The Centre for Sustainable Cropping – a long term research-to-application platform at the James

Hutton

Institute's

Balruddery

Farm, coordinated by staff in

Agroecology

(Cathy

Hawes

)
Environment, risk assessment and b

iodiversity

– liaison with

NGOs

, UK government bodies, the

EC

and member states.
Previous work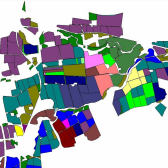 Many of the skill sets current in agroecology developed at the Institute during the coordinated programmes funded by the Scottish Government in the late 1990s, notably Vegetation Dynamics (Coordinator: Geoff Squire) and Soil-plant Dynamics (Coordinator Karl Ritz). Concepts and techniques were refined through external projects 1998-2008 on the ecological and economic impacts of GM crops. Full details including publications can be found at the Ecological biosafety and geneflow web pages on the previous SCRI website, or go directly via the following links to the UK's Farm Scale Evaluations of GMHT crops, the EU ECOGEN project on GM insect resistant crops; the GMO Guidelines project in Brazil, Kenya and Vietnam (IOBC); the EU SIGMEA project on coexistence; and a series of major projects on Gene movement and persistence funded by Defra, RERAD and BBSRC.
Project report in addition to those on the above sites (PDF file 956 kb): Factors affecting cross pollination of oilseed rape growing under UK conditions (2008) Defra RG0125
The group and close colleagues, took lead roles in the 2006-11 RERAD programmes, notably in the Sustainable Crop Systems workpackage, and the BBSRC (trophic) LINK project (2005-2008).