ESMART: web tools and apps for the Scottish environment
E-SMART: Environmental Sensing for Monitoring and Advising in Real-Time
The James Hutton Institute has a proven track record in field monitoring and the presentation of existing data resources (for example, SSKIB). The E-SMART project integrated this expertise and data holdings further and improved the Institute's use of these resources, recognising that the use of modern technology for data acquisition and the initiation of secondary products for future business are paramount.
By incorporation of E-SMART data acquisition infrastructures and web support we can utilise modern approaches to the acquisition, utilisation and dissemination of field observations. We can also use legacy mapped environmental data to integrate new information and existing expertise, and more rapidly and efficiently analyse this new information. Also, this will work towards both James Hutton Institute and national performance targets of community participation in and ownership of environmental problem solving, sustainability and rural economy.
Within the E-SMART project, we developed the infrastructure and skills to integrate mobile phone apps, existing data holdings and environmental models for the prediction and measurement of environmental characteristics in the field.
For further information, please contact Dr Matt Aitkenhead Tel: +44 (0)1224 395257, or David Donnelly.
Download the SIFSS app developed by David Donnelly from iTunes by clicking on the image below:

You can also download the SOCiT soil carbon app from iTunes by clicking on the following link:

We have also produced an Android version of the SOCiT app, which can be found here (see the screenshots below for an idea of what this looks like).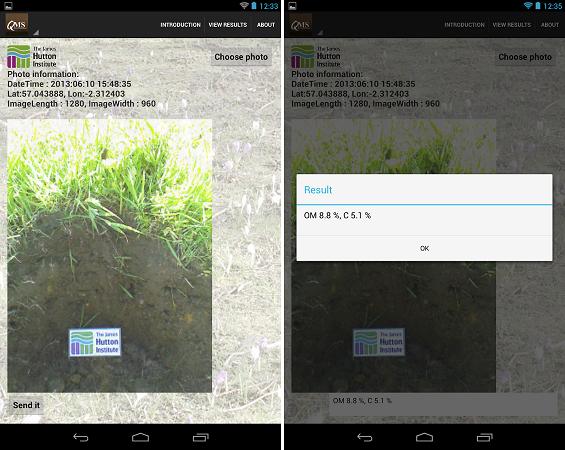 The infrastructure and experience gained from the E-SMART continue to be used for app development and the closer integration of existing datasets with new models. Watch this space for new apps, and links to other projects making use of them.