SEAMS - Sustainability in Education and Agriculture using Mixtures
NEEDED - NETWORK SITE FARMERS FOR 2021
We're currently very interested in hearing from any farmers that might want to get involved in running trials as part of the SEAMS project, particularly in the arable farming areas of eastern Scotland. We have funding to help support their involvement and anyone interested in getting involved can contact us via SEAMS@hutton.ac.uk
Funded by the Esmée Fairbairn Foundation, and coordinated by the James Hutton Institute, the project focusses on crop mixtures and aims to develop, promote and implement crop species mixtures as a sustainable crop production system for Scotland, and as a resource for knowledge exchange on food production, agricultural ecology and environmental sustainability.
What we are doing
We have developed a network of field sites across the main arable food production areas of Scotland. These sites are trialling crop mixtures, providing information on how to tailor the use of crop mixtures to different locations in Scotland. They are also providing a platform for knowledge exchange and learning. The sites are working farms spread across Scotland and the project is taking a participatory approach, especially with respect to deciding the crop mixtures to be trialled.
Core sites also host visits for wide a range of groups, including:
• Farmers - following the highly successful GWCT farmer clusters approach, core sites are a hub for discussions with farmers from the local area, with the aim of establishing a wider set of "network sites" also growing crop mixtures as part of the project.
• Local schools – schools are engaging in citizen science activities and using the crop mixtures as an opportunity to find out more about sustainable food production and the ecology of farmed landscapes.
• Food buyers and producers – to help increase the uptake and demand for local products derived from crop mixtures.
• Policy makers – promote crop mixtures within future policy decision making.
To complement the field sites, we are providing a range of guidance and education material on crop mixtures. During this summer, and because of the limitations imposed by the Covid outbreak, we have undertaken a number of online activities and events to help explain the aims and activities of the project and to provide more information on growing crop mixtures. In particular:
A SEAMS video, produced for this year's online Arable Scotland event.
A Virtual Field Day held in collaboration with the Agricology network and the Designing Innovative Plant Teams for Ecosystem Resilience and Agricultural Sustainability (DIVERSify) project bringing together insights from farmer experience and scientific research.
An episode of LEAFcast, the podcast produced by our project partner Linking Environment and Farming UK (LEAF). In it, LEAF Technical Assistant Emily Trivett chats researchers from the SEAMS and DIVERSify projects about the benefits of intercropping.
A leaflet providing an overview of the SEAMS project can be downloaded here.
Workshop: Plant teams in Scotland: experiences, barriers and opportunities workshop - November 2019
Interested farmers were warmly welcomed to a workshop at West Gilston Mains, Fife, on the 14th November. The workshop focussed on investigating, learning and sharing ideas about crop mixtures, and farmer's experiences of establishing, growing and harvesting them. Growing two crops simultaneously offers a range of potential benefits from soil conditioning to pest control, but mixtures must be well-designed and closely managed. At this workshop we discussed what works, what doesn't, what the opportunities are, and what barriers we need to be aware of. On a farm tour, we heard from Farm Manager Matt Waldie about his experiences.
Project partners:
The project involves and is supported by a number of partner organisations:
Although the outreach deliverables have been delayed due to Covid-19 the core farmers have still been busy growing trial plots of crop mixtures using crop species of interest to them. Standard crop measurements such as crop cover, disease severity, dry matter production and seed yield will be recorded to indicate any benefits and disadvantages to growing the crop species mixture by comparing the mixtures to plots of the crops grown alone.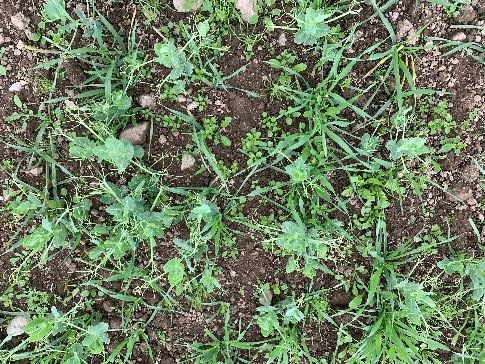 Related sites
The following websites provide more information on crop mixtures and sustainable farming projects:
DIVERSify: Designing InnoVative plant teams for Ecosystem Resilience and agricultural Sustainability
TRUE: TRansition paths to sUstainable legume based systems in Europe
Contact
For more information on the project please contact SEAMS@hutton.ac.uk